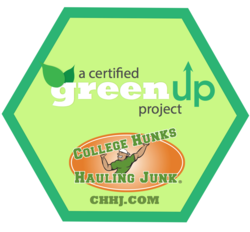 Daily activities can be easily modified to provide clear benefits for our communities and the environment.
Fairfield, NJ (PRWEB) April 22, 2013
College Hunks Hauling Junk North Jersey owner Stephen Bienko embraces Earth Day by scheduling a full day of voluntary GreenUp activities in Newark, New Jersey.
Earth day is an annual event intended to increase environmental awareness around the world. College Hunks Hauling Junk supports this cause year-round by traveling across New Jersey cleaning up vacant properties infested with junk and garbage. On Monday April 22nd College Hunks will volunteer to clean up the following five vacant Newark, NJ properties submitted by residents:

Corner of 16th Street and 9th Avenue at 8:30am
217 Fairmount Avenue at 8:30am
South Orange Avenue and Gladstone at 10am
364 Grove Street at 10am
Corner of Dassing and Speedway at 12:00pm
These projects are all apart of the GreenUp Movement. GreenUp is College Hunks' initiative to clean vacant lots and properties around New Jersey to improve the quality of life for all residents. People are encouraged to send photos of junk infested lots to College Hunks through Twitter and Facebook. College Hunks will then clean up these properties and responsibly dispose of all junk. In the beginning of April, College Hunks' cleaned up a property in Newark. This project was posted throughout social media and gained support from the mayor of Newark, Cory Booker.
Every property cleaned through GreenUp makes the community a greener and cleaner place. Stephen Bienko, owner of College Hunks Hauling Junk and College Hunks Moving North Jersey explains how the execution of GreenUp defines the roots of his company. "We are masters of moving and junk removal, but are uniquely characterized by the positive environmental impact our services provide. I built my company around giving back in many ways. This GreenUp is just one more example of my passion for helping people and the community as a whole." By recycling and donating 70% of everything they haul, College Hunks has a positive impact on New Jersey communities and the environment as a whole.
New Jersey residents have shown great support and stand strongly behind the GreenUp Movement initiated by College Hunks Hauling Junk North Jersey. They deeply appreciate College Hunks volunteering their time to help clean up their towns. Some residents have even asked to participate in these GreenUps and others have been paying it forward by doing their own green deeds. College Hunks Hauling Junk North Jersey leads by example by conducting GreenUp projects and encourages others to partake in environmental initiatives this Earth Day.