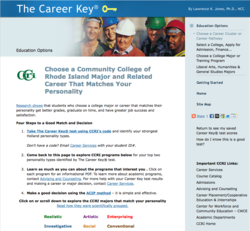 We scientifically map and display a college's majors - making it easy and affordable for the school to help its students make a close personality major match.
Juliet Jones, GCDF
Vice President, Career Key
Portland, OR (PRWEB) September 07, 2011
Career Key® announces their new "College Match Up!" service that creates and displays online a college's list of majors by personality type enabling students to match their personality to these majors. Studies show that a good match predicts grades earned and timely graduation. Career Key, http://www.careerkey.org, is the first and only career guidance company to offer this scientifically based service.
Community College of Rhode Island, the largest community college in the Northeast, is the first to take advantage of the service with its "Match Up" page, "Choose a Community College of Rhode Island Major and Related Career that Matches Your Personality".
Colleges and universities can use the new service in recruitment efforts, academic advising, college retention programs, and career centers. Prospective and current students can explore and learn more about a college's majors that match their personality – increasing their chances for college and career success.
College Match Up!
Students start by taking The Career Key test, a scientifically valid assessment of Holland's six personality types. It takes 10 to 15 minutes and can be taken from any Internet connected computer or tablet. Career Key offers a group discount to educators and counselors. The test is also offered by organizations that license The Career Key®.
On the Career Key website, a college's Match Up! page,

Displays a list of the college's majors scientifically classified by Holland personality type and work group,
Provides information about each major that interests them,
Links visitors to departments like Advising and Career Services, and
Gives sound advice based on best practices and research in the field.
To learn more, see the short YouTube video overview of the College Match Up! service.
About The Career Key®
Since 1997, Career Key has been the #1 Internet source for helping people choose careers and college majors. Advertising and registration-free, it offers a valid career test, information, and advice articles based on the best practices and science in the field.
###