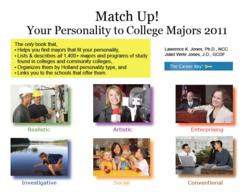 "Match Up! will be of great use to students and counselors who quickly need a list of options related to personality." Dr. Debra Osborn, President, National Career Development Association
Portland, OR (PRWEB) July 26, 2011
Career Key®'s new e-book, "Match Up! Your Personality to College Majors" just received an excellent review from Dr. Debra Osborn, President of the National Career Development Association. The "Match Up!" review appears in the July 2011 issue of the American Counseling Association's "Counseling Today."
"Match Up!", by Dr. Lawrence K. Jones, NCC and Juliet Wehr Jones, J.D., GCDF, is the first publication to show students and adults returning to school all college majors matching their Holland personality types. All of the majors (1400+) currently used by the U.S. Department of Education (and Canada) were scientifically analyzed and organized according to the Holland personality types. Studies show that the closer the personality-major match, the more likely students will earn good grades, persist, and graduate on time.
According to Dr. Osborn, "Match Up! will be of great use to students and counselors who quickly need a list of options related to personality." She also found "the e-book makes reading not only easy and enjoyable but reader-centered." It gives people "components essential to the career decision-making process (for example, self-knowledge and decision-making skills)."
In "Match Up!" readers see:

Which majors fit their personality,
A description of each major,
Related occupations, and
How to find colleges that offer those majors.
"Match Up! Your Personality to College Majors" contains over 1,400 college majors in the U.S. and Canada. It is available for sale in the Career Key eBookstore: Adobe® PDF, 343 pages, US $14.95, 2011.
About The Career Key®
Since 1997, Career Key has been the #1 Internet source for helping people choose careers and college majors. Advertising and registration-free, it offers a valid career test, information, and advice articles based on the best practices and science in the field.
###