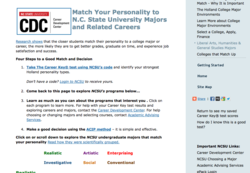 North Carolina State University has a long history of promoting high quality, science-based career guidance for its students. We are proud to help continue this tradition and work with NCSU in this new way.
Dr. Lawrence K. Jones, NCC
Portland, OR (PRWEB) July 19, 2012
Current and prospective NC State students can now match their Holland personality to NCSU college majors using Career Key's "College Major Match" service. This new NC State - Career Key resource enables students to benefit from studies showing a close "personality-major match" leads to higher grades, persistence in a college major, and timely graduation. These benefits are detailed in Career Key's free professionals guide, "Personality-College Major Match and Student Success."
Accessible to current and prospective NCSU students, the new NCSU College Major Match page displays a list of all NCSU college majors scientifically classified by Holland personality type and Career Key work group. Each major links to helpful information about the program and careers associated with it.
Students start by taking The Career Key test, a scientifically valid assessment of Holland's six personality types. It takes 10 to 15 minutes and can be taken from any Internet connected computer or tablet. Students then explore Career Key's list of NCSU majors classified by personality type, clicking on matching majors that interest them to learn more.
Current NCSU students can access the assessment using instructions on the NCSU College Major Match page. Prospective students or those interested in matching their personality to NCSU majors can purchase the test at the Career Key website. North Carolina residents can take the Career Key test at the College Foundation of North Carolina website.
"North Carolina State University has a long history of promoting high quality, science-based career guidance for its students. We are proud to help continue this tradition and work with NCSU in this new way," says Dr. Lawrence K. Jones, NCC, Career Key author and Professor Emeritus at North Carolina State University.
Career Key's College Major Match service gives colleges and universities an affordable way to help students take advantage of "personality –major match" research. It can be used in recruitment efforts, academic advising, college retention programs, and career centers. Prospective and current students can explore and learn more about a college's majors that match their personality – increasing their chances for college and career success.
About The Career Key®
Since 1997, Career Key has been the #1 Internet source for helping people choose careers and college majors. Advertising and registration-free, it offers a valid career test, information, and advice articles based on the best practices and science in the field.