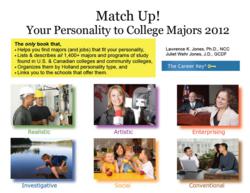 The 2012 edition now describes college major environments and how to choose one that is compatible.
Portland, Oregon (PRWEB) January 31, 2012
Career Key's new 2012 edition of "Match Up! Your Personality to College Majors" now describes college major environments and how to choose one that is compatible. Career guidance leader Career Key® helps students and adults choose careers and college majors based on the best science and practices of career counseling.
Recommended by leaders in career development, "Match Up" is the first and only book to show students and career changing adults all college majors matching their Holland personality types. "Research shows that personality-major match has a major impact on the grades students earn and their chances of graduating", says Dr. Lawrence K. Jones, NCC, author of "Match Up" and The Career Key. Dr. Jones recommends "Match Up" plus a valid career test assessing Holland's personality types to make an effective personality-major/environment match.
In the 368 page e-book, more than 1,400 U.S. and Canadian majors are scientifically grouped according to the six Holland personality types. Within each personality type, the college majors are organized into unique, easy to understand groups based on skills and abilities. The e-book also describes each major, gives related careers, and shows how to find colleges that offer them. The e-book's PDF format and design allows easy navigation.
In the annual update of "Match Up," Dr. Jones added a new chapter on Holland's six college major environments, describing and them and helping students consider them in choosing a college major. When one chooses a major, one chooses a particular academic environment – surroundings and conditions. Professors in a major create a college major environment, by the way they teach, and what they reward. Students in the major also create an environment through a "peer culture" that rewards students who have interests and a personality like theirs. It is this personality-environment interaction that affects students' success, and explains why it is so important.
Available in the Career Key eBookstore, "Match Up! Your Personality to College Majors" (368 pages), Adobe PDF, costs $14.95. Purchasers can include the companion Career Key test for a total of $20.00, a 20% savings over separate purchases.
About The Career Key®
Since 1997, Career Key has been the #1 Internet source for helping people choose careers and college majors. Advertising and registration-free, it offers a valid career test, information, and advice articles based on the best practices and science in the field.
###