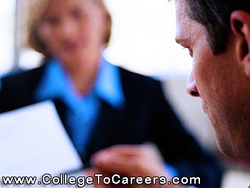 Our philosophy is to serve students and new professionals first.
San Francisco, CA (PRWEB) June 21, 2010
Young adults with high career aspirations are losing sleep over the challenges they face in today's tough job market. Getting in an entry level career track a decade ago was a lot easier. Today's graduates have discovered that employers are now requiring a higher level degree such as a master's degree at minimum to get hired due to cutthroat competition.
CollegeToCareers.com provides answers from professionals in the field on navigating this brave new world of higher education. Nohel C. Corral, M.S., College to Careers founder, has contributed a wealth of information to the website based on his many years of working as a counselor and professor in the California community college system. He counsels students daily on finding scholarships for college, online colleges and job opportunities.
"My goal is to provide college help for students while preparing them to succeed in school, their careers, and in life. The students that I work with are accepted into universities such as UC Berkeley, UCLA, Stanford, Ohio State, USC, and many more state and private institutions," Nohel said. "Students that have worked with me have also benefited by being placed in companies ranging from KPMG and the Big 4 accounting firms, Smith Barney, and privately owned companies."
Career development is very difficult when so many holders of advanced degrees find themselves unemployed - or working at service jobs that don't use their advanced skills. Add the massive student loan debt many have accrued and you have a dysfunctional, confusing situation that has students, their parents, and working professionals scratching their heads, wondering whether college is worthwhile.
CollegeToCareers.com offers non-judgmental advice on which schools to apply to, important college notices, choosing college majors, student loan management, job hunting, online college insight and career development. The articles are written to encourage students, parents and working professionals to make wise choices on their own.
"Our philosophy is to serve students and new professionals first. There are many needs this population has, ranging from educational planning to resume writing, and we aim to meet their needs with valuable tools, information and consultations," Nohel concluded.
CollegeToCareers.com is has an experienced network of career choice professionals who contribute content on getting hired, employment, and advice for new graduates trying to find careers in their fields. They have advised over 300 career seekers successfully on preparing themselves for the job market, and give pointers on general career development. They understand that everybody has something unique to contribute, and helped all their clients make the most of their assets. Their background working with so many different types of people gives them a keen sense of the marketplace, and a sense of where all sorts of job seekers could fit in.
If you're wondering what to do next while struggling in the competitive job market, a professional's point of view can give you the clarity you need to make an informed decision. Whether you are considering taking online college courses, applying for college scholarships, or need a resume revision, this website will help. Check out CollegeToCareers.com, where they lend their expertise to help you empower yourself to make choices that work best for you.
# # #