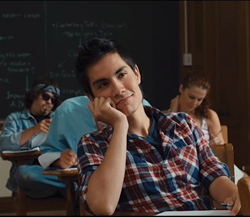 We are so grateful for the incredible support we received from our fans, our friends, YouTube, and everyone involved in making this project come to life.
Los Angeles, Ca (PRWEB) October 29, 2014
With over 4.6 million YouTube subscribers and just shy of a billion video views, Kurt Hugo Schneider has made a recognizable name for himself in the virtual world over the past 6 years. His frequent collaborations with indie pop recording artist, Sam Tsui, has caused an international frenzy that has ignited the attention of music enthusiasts and fans from all across the globe. The immediate success of Sam and Kurt's 4-Episode "College Musical" mini web-series which kicked off in January 2009, garnered over 4 million views, and sparked the idea to create the full length feature film. The "College Musical" screenplay was co-written by Jake Bruene, and the original music/movie score was composed by Andrew Johnson and Kurt Schneider.
The live stream premiere of "College Musical" was hosted at the YouTube Space LA on September 3rd, where over 300 fans, YouTube celebrities, cast, crew, and the media gathered to celebrate the official long awaited release of the film. In addition to the two overflow rooms that the YouTube Space opened up for this historic event, over 54,000 viewers tuned in to watch the live stream. "College Musical" quickly became a top 3 trending topic on twitter the night of the event.
"It was a totally awesome night," says Kurt. "We are so grateful for the incredible support we received from our fans, our friends, YouTube, and everyone involved in making this project come to life. It is so satisfying to get this movie off my hard-drive and into the hands of our fans who have been patiently awaiting its delivery for the past 4 years."
College Musical is now available for sale on iTunes, and can be purchased or rented on YouTube. For additional information or for media requests, please contact Dani Thompson of DNT Entertainment at 714-496-5152
Film Trailer: https://www.youtube.com/watch?v=zUP3NPf-57Y
###