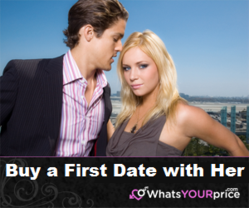 WhatsYourPrice.com is the only online dating website that helps college students get paid for what they already enjoy doing: dating and having fun.
New York, NY (PRWEB) September 06, 2011
WhatsYourPrice.com, the first and only name your price online dating marketplace for buying and selling first dates announced the launch of its free certification program for college students today.
According to WhatsYourPrice.com, college students already heavily burdened with college loans cannot afford monthly subscription fees charged by most online dating personals, or the cost of going out on first dates. However, single college students remain the most active and sought after dating demographic.
"College students are the poorest online dating demographic due to the high cost of education and minimum wage job opportunities. If you want to date a single college student, don't expect him or her to go Dutch on the bill," says Brandon Wade, Founder and CEO of WhatsYourPrice.com. "WhatsYourPrice.com is the only online dating website that helps college students get paid for what they already enjoy doing: dating and having fun."
The College Student Certification Program
College students registering for an online dating profile on WhatsYourPrice.com using their college issued dot-EDU email address will automatically enjoy the benefits of a free premium membership upgrade (a $30 a month value) and profile certification.
A certified college coed profile will be marked with a unique stamp, allowing other members to know the profile belongs to a real college student. A free premium upgrade will allow college students to receive more first date offers from potential suitors, and provide them access to features such as "name your price" dating, premium profile placements and advanced search. Premium profiles on WhatsYourPrice.com receive an average of over 3 times more first date offers than free profiles.
"College students already account for over 30% of WhatsYourPrice's active users," says Mr. Wade who holds a BS and MBA degree from MIT. "By targeting single college students with our free college certification program, I am confident over 50% of our active users will be college students by year end."
About WhatsYourPrice.com
WhatsYourPrice.com is the first and only online dating marketplace where singles buy and sell first dates. Based on a patent pending online dating system, the website is revolutionizing dating by taking the concept of first date auctions held at charity events and turning the concept into a viable online dating model. Launched less than six months ago, the website currently boasts over 250,000 members and has matched up over 200,000 first dates. WhatsYourPrice.com is founded by Brandon Wade, a leading relationship expert and founder of a string of successful online dating properties, including SeekingArrangement.com – the leading sugar daddy and sugar baby dating website, and SeekingMillionaire.com – the leading millionaire matchmaking personals.
For more information about WhatsYourPrice.com, please visit our website, or contact us directly.
###