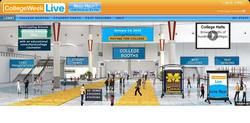 Needham Heights, MA (PRWEB) January 11, 2010
CollegeWeekLive, the leading web destination which brings admissions experts, high school students, parents and colleges together live online, today announced that the U.S. Department of Education's office of Federal Student Aid will work with CollegeWeekLive, an online college fair and admissions event destination, to inform families about federal student financial aid opportunities.
CollegeWeekLive events cover a wide range of admissions topics, from how to prepare for standardized tests to how to write a college application essay to how to pay for college. It is the largest college preparation event in the U.S. and a free resource accessible to all regardless of where they live or socioeconomic status.
On January 14, Federal Student Aid will participate in the CollegeWeekLive PAYING FOR COLLEGE event, explaining federal financial aid options for high school students and their parents and highlighting the new simplified online Free Application for Federal Student Aid (FAFSA).
If you are a student or a parent interested in attending the upcoming CollegeWeekLive PAYING FOR COLLEGE session, visit http://www.CollegeWeekLive.com to sign-up for free. If you are an admissions or financial aid representative interested in participating in CollegeWeekLive, contact 617.938.6000 or Exhibit(at)CollegeWeekLive(dot)com.
ABOUT FEDERAL STUDENT AID
Federal Student Aid, an office of the U.S. Department of Education, plays a central and essential role in America's postsecondary education community.
Federal Student Aid's core mission is to ensure that all eligible individuals benefit from federal financial assistance—grants, loans and work-study programs—for education beyond high school. The federal financial assistance programs comprise the nation's largest source of student aid, providing more than $100 billion in new aid to nearly 14 million postsecondary students and their families each year.
ABOUT COLLEGEWEEKLIVE
CollegeWeekLive (http://www.CollegeWeekLive.com) is the provider of the world's largest college fairs and online admissions events. With hundreds of colleges and universities exhibiting and more than 200,000 registrants, CollegeWeekLive revolutionizes college admissions, making the process easier and more cost-effective by bringing students, parents, counselors and colleges together online, transcending time and distance. CollegeWeekLive is free for students, parents and counselors.
###