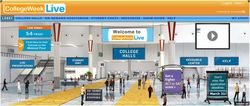 An Admissions Office Versus Your Test Scores
Boston, MA (PRWEB) September 3, 2009
CollegeWeekLive, the world's largest college fair, today announced additional speakers and session topics for the special one-day online event called CollegeWeekLive Test Prep. Slated for Thursday September 17th from 12:00 Noon to 10:00 PM Eastern Time, the event is designed to help address common questions, provide free preparation sessions and most importantly, reduce anxiety for students and parent alike when it comes to the topic of standardized tests for college admissions.
The event kicks off with a presentation by Martha Byrd, Dean of Undergraduate Admissions for Arizona State University, and Andy Roop, Director of Prospective Student Services at University of Oklahoma, titled "An Admissions Office Versus Your Test Scores" where the two admissions officials discuss all the factors, not just test scores, that go into the admissions decision making process.
"Our advice to students interested in attending Arizona State University is to prepare for standardized tests. If they practice, they are more likely to feel calm and in control and perform well," said Martha Byrd, Dean of Undergraduate Admissions, Arizona State University. "We also tell high school students that test scores are just one factor of our admissions criteria. We look at the student's academics as a whole including class rank and GPA as well as review their high school coursework."
Ira Wolf, author of the Barrons SAT Test Guide will follow at 1:00 PM with a session on "Test Taking Strategies" and noted New York Times contributor and author Lynn O'Shaunnessey will discuss "The Other Side of Test Optional" beginning at 2:00 PM. Sessions at the event are broken into four tracks: Overview Sessions, SAT Prep Sessions, ACT Prep Sessions and TOEFL Prep Sessions. The complete agenda for the event is available at CollegeWeekLive.com.
Sponsors of the first of its kind online test event include The ProTesters and PowerScore. The ProTesters is a fast-growing test-prep company in the Birmingham, Washington DC, San Francisco and Seattle areas. PowerScore is a national test preparation company offering different types of assistance for the SAT, including full-length and weekend classroom courses, live online courses, and private tutoring.
Attendance is completely free and students and parent attendees can ask questions via an instant messaging format while watching admissions professionals and tutors live via video and get immediate answers from those presenting.
"Students are often nervous and overwhelmed by the prospect of standardized tests and this event is designed to demystify test-taking and eliminate fear," said Robert Rosenbloom, CEO of PlatformQ, producer of CollegeWeekLive events. "With twenty free online test practice sessions, this event is unique in its ability to help get students started now in the process of preparation, which is one key to reducing anxiety."
CollegeWeekLive Test Prep also offers students, particularly those considering early admissions, the opportunity to research a wide variety of colleges, and text chat live with admissions officials. CollegeWeekLive events make the college admissions process easier by eliminating the usual obstacles of cost and distance from the college search. Hundreds of colleges and critical admissions information are available from the convenience of a computer at CollegeWeekLive.
The event will close with a session reviewing the latest in test prep gizmos and gadgets, ranging from software tools designed to help boost your vocabulary to stress reduction aides. To learn more or to register for free for CollegeWeekLive Test Prep, visit http://www.CollegeWeekLive.com.
About CollegeWeekLive:
CollegeWeekLive (http://www.CollegeWeekLive.com) is the world's largest and most successful college fair and it meets entirely online several times a year. With hundreds of colleges and universities exhibiting and hundreds of thousands of registrants, CollegeWeekLive revolutionizes college admissions, making the process easier and more cost-effective by bringing students, parents, counselors and colleges together online, overcoming cost and distance. CollegeWeekLive is free for students, parents and counselors.
CollegeWeekLive is produced by PlatformQ, whose mission is to connect people, companies, organizations and associations worldwide to meet, interact and learn from leading experts and thought leaders through proven interactive tools at online events.
CollegeWeekLive and PlatformQ are trademarks of PlatformQ, LLC. All other trademarks or service marks are property of their respective owners.
###