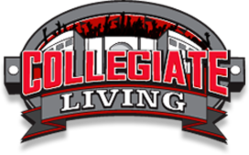 Scottsdale, AZ (PRWEB) April 22, 2012
Many people view their college years, with its freedoms, friendships, and endless possibilities for the future, as the happiest of their lives. It was, therefore, a no-brainer for CollegiateLiving.com owners that alumni, students, and fans would enjoy having souvenirs of this golden time. Accordingly, in 2007 CollegiateLiving.com launched, a provider of officially licensed collegiate, NFL and MLB gifts and merchandise.
What the CollegiateLiving.com didn't anticipate, however, was just how deep these ties to alma maters ran. The true value of Collegiate Living gifts went far beyond helping customers furnish their homes with college decor. The image of hook em' horns, the Spartan, or horned frog are more than mere mascots, they trigger memories of moments spent on campus, in stadiums, and in dorm rooms.
It was this keen appreciation of customer sentiment that led to the revamp of CollegiateLiving.com in 2011. They knew that if they tapped into this undercurrent of nostalgia, they could increase the website's "stickiness", keeping visitors on the site for longer periods of time. "The longer devoted graduates remain on the site, the more likely they will find a piece of memorabilia that calls to them, resulting in increased sales and happy customers," notes the owners.
The tactic the owners used to keep visitors glued to their website was an online video titled "Dorm Room to the Board Room." The one-minute, 46-second-long montage of college-centric clips strongly resonated with visitors, increasing the overall time they spent on the site by an impressive 47% and dramatically boosting sales. For them the results underline the profitability of recapturing memories. "Memories of college stick with you. We knew that if we could harness that positive energy in our video, our customers would stick with us."
About Collegiate Living:
Collegiate Living is an exclusive redistributor of licensed collegiate, NFL and MLB products. CollegiateLiving.com features over 10 categories with thousands of hand-picked gift ideas for alumni, students and fans. College Merchandise includes lamps and lighting, golf gear, women and men's apparel, automotive products, diploma frames, and much more.