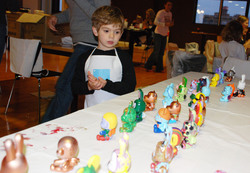 The generosity and creativity shown by Colle+McVoy has been overwhelming
Minneapolis, MN (PRWEB) February 18, 2008
Colle+McVoy has launched artisagift.com, a Web site that allows users to create their own designs on a popular miniature Qee figurine, while also learning about programs that help abused and at-risk children heal through art.
On the Web site, visitors can view these truly amazing pieces of art and create their very own customized Qee. Visitors to the Web site can also e-mail their customized Qee creation to their family and friends and watch a video of Free Arts Minnesota children creating their own baby Qees.
"We believe children and adults can benefit from the healing affects of art," said Christine Fruechte, president of Colle+McVoy. "It is powerful to see how the creative imaginations of children come to life, build self esteem, and have a profound impact on our staff."
"When I worked with these children, I had no idea how much they would touch my heart," said Katy Viehman, account executive at Colle+McVoy. "Being able to spend time with these amazing young artists was very special to me."
"The generosity and creativity shown by Colle+McVoy has been overwhelming," said Michelle Silverman, executive director of Free Arts Minnesota. "This most recent effort brightened the day for thousands of children living in very tough situations. This project has taken on a life of its own ever since."
About Colle+McVoy
Colle+McVoy, founded in 1935, is nationally recognized for activating brands that shape the future for clients such as August Schell Brewing Company, Aveda, Case IH, CHS Inc., Courage Center, DuPont, Erbert & Gerbert's Subs, Johnson & Johnson Vision Care, Minnesota State Lottery, Nestlé Purina, New Holland, Novartis, Red Wing Shoe Company, Time Warner Cable Business Class, among others. The agency offers advertising, digital, public relations, direct marketing and fast-forward thinking. Colle+McVoy is a member of the MDC Partners network. For more information, visit http://www.collemcvoy.com.
About Free Arts Minnesota
Free Arts a nonprofit organization dedicated to bringing the healing power of artistic expression into the lives of abused, neglected and at-risk children and their families. To find out more log onto http://www.freeartsminnesota.org.
###