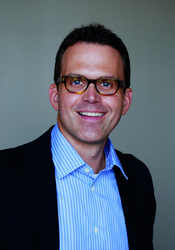 This is an exciting time at the agency and Chris brings an inspiring blend of thought leadership and innovation in brand and digital strategy
Minneapolis, MN (PRWEB) September 3, 2009
Colle+McVoy, a full-service advertising agency, today announced leadership additions driven by the agency's tremendous growth and ongoing transformation.
Chris Lawrence has joined the agency as director of client services overseeing account management, digital strategy, media planning and account planning. In addition, Tom Lindell has been named managing director of Exponent PR, the agency's public relations partner.
In recent years, Colle+McVoy has received increased industry recognition, and the agency's client roster continues to expand with nationally recognized brands. Billings have increased by double digits over the last three years. The agency ended 2008 with revenues at an eight-year high and is continuing to grow in 2009. This year alone, Colle+McVoy and Exponent PR have earned two gold Effie Awards, a Webby Award, a PRSA Anvil and recognition in The One Show and Cannes.
"This is an exciting time at the agency and Chris brings an inspiring blend of thought leadership and innovation in brand and digital strategy," said Christine Fruechte, president and CEO, Colle+McVoy. "He also adds depth to our leadership team, which is fueling our evolution as a creative and digitally savvy agency."
For nearly 20 years, Lawrence has shaped groundbreaking communication strategies and has helped create award-winning campaigns for iconic brands such as Nordstrom, Lee Jeans, Georgia Pacific, Nestlé Purina and General Mills, among others. Lawrence most recently served as senior director of marketing strategy and communications for Best Buy, where he was a member of the leadership team responsible for guiding company-wide integrated marketing efforts across all communication channels. In addition, he led the development of strategic brand partnerships. Lawrence has also held positions in account leadership at Fallon, Campbell Mithun and Olson.
"I am impressed by Colle+McVoy, their people, and their growing list of creative and strategic accomplishments, as well as the business results achieved for clients," said Lawrence. "I am thrilled to have the opportunity to build on the agency's success."
As part of the leadership changes, Lindell assumes leadership of Exponent PR and is responsible for maintaining the division's growth, as well as continuing the growth of digital and social media expertise within the public relations practice. Lindell has been at Colle+McVoy for nine years, three of them as director of client services after six years in the public relations group. He has a track record of building successful communications campaigns across numerous industries. Prior to Colle+McVoy, Lindell held leadership positions at Carmichael Lynch Spong and Fleishman Hillard.
"Tom has a proven ability to create new opportunities and innovative business solutions for clients and is well positioned to expand on our growth within our evolving public relations practice," said Fruechte.
After more than 25 years in public relations and 12 years leading the Colle+McVoy public relations division, Riff Yeager is transitioning from managing director to the role of chief strategist, where he will continue to provide senior-level counsel to clients. Under Yeager's leadership, the Colle+McVoy public relations practice became an independent group named Exponent in 2004 and has since grown into one of the region's largest and most recognized public relations agencies.
"Riff is of one the region's most respected public relations practitioners and his leadership and strategic counsel will continue to help clients achieve their business success," said Fruechte.
About Colle+McVoy
Colle+McVoy is a Minneapolis-based ad agency nationally recognized for creating game-changing ideas for Aveda, Caribou Coffee, CHS, Discovery Communications, DuPont, ESPN, Erbert & Gerbert's Subs & Clubs, General Mills, Kiehl's, Koala Ranch Wine, IBA, Manhattan Toy Company, Minnesota State Lottery, New Holland, Nestlé Purina, Novartis, Propane Education & Research Council, Recreational Boating & Fishing Foundation, Red Wing Shoe Company, Winfield Solutions, Taubman Shopping Centers and Yahoo!. A member of the MDC Partners network, Colle+McVoy is driven by a passion to significantly impact each client through innovative marketing campaigns. For more information, visit http://www.collemcvoy.com or follow the agency on Twitter at http://www.twitter.com/collemcvoy.
###