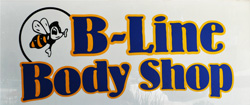 B Line takes great pride in caring for our customers
San Jose, CA (PRWEB) August 13, 2011
Proper maintenance on vehicles can prevent accidents and may help cars perform effectively for a long time. San Jose's B Line Body Shop gives some helpful and simple advice on how to maintain key components of a vehicle which may prove to be a life saver for motorists.
Driving in the rain is never fun, especially when it is accompanied by fog which greatly reduces visibility. In these cases it is vital to have windshield wiper blades that perform effectively. Old and dull blades can decrease already poor visibility. Replacement of these blades takes less than 10 minutes and a change is recommended after ever rainy season because the rubber inserts become dry and brittle during the summertime or when not in use.
It is important to make sure that not only are headlights not burned out, but also that they are not dull or fogged up. This can occur from exposure to environmental conditions and can cause visibility problems. Fogging can be eliminated by polishing the headlamp lenses and there are many aftermarket products that can be applied. The best way to remove the haze is by polishing the outer plastic lens with a compound and a buffer. Aftermarket clear film can be applied to the headlamp lens after it is restored to add to the longevity of the plastic lens.
"San Jose auto collision repair shop B Line takes great pride in caring for our customers. These two simple suggestions can increase your visibility when driving and maybe even prevent an accident from happening. If you find your headlamps lenses are not looking like they used to or you need assistance in changing wiper blade inserts, stop by B Line and we will be happy to see what we can do," said Michael Avery of B Line Body Shop.
B Line Body Shop is located at 161 Patterson Street, San Jose, CA 95112. They can be reached at (408) 279-4500 or by visiting website at http://www.b-linebodyshop.com.
About B Line Body Shop
B Line Body Shop is the one stop shop that offers auto repairs from collision, scratch, bumper and dent repairs. They provide the best service in the city of San Jose that also offers auto insurance claims. Staffed with qualified technicians, the professionals at B Line Body Shop are always ready to provide car assistance to all clients' needs.
###