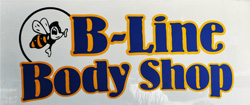 With my father as one of the original primary directors, I feel it is very important to carry on not only a family orientated business, but one that produces quality repairs and excellent customer service
San Jose, CA (PRWEB) January 25, 2012
In 2012, San Jose collision repair shop, B-Line Body Shop will celebrate its 40th anniversary of providing quality and genuine services in the San Jose area. Over the past 40 years, B-Line Body Shop has built and maintained a client base that spans generation. As a reliable repair shop, B-Line constantly strives for quality and gets every job done right.
Founded in 1972, B-Line Body Shop was originally located on Third Street in downtown San Jose. It dealt with a local BMW dealership in San Jose and specialized in BMW repairs. In 1982, B-Line moved from its small, original location to where the shop now resides at 161 Patterson St. B-Line Body Shop has always been known for providing quality repairs, which remains a consistent factor to this day.
San Jose body shop, B-Line built its customer base through high-quality customer service and repairs, such as collision repair, scratch repair, bumper repair, dent repair and auto insurance claims. James Suggs and Bob Oka, two of the original owners sold the company in January 2008 to Michael Avery and Ryan Oka. They were active in the company until the time the company was sold.
The primary directors of the company, Michael Avery and Ryan Oka, have been part of the company for decades. Michael Avery has been employed at B-Line for almost 30 years. He started off as a paint prepper and worked his way up to become the head painter. He has managed B-Line since the 90s. Ryan Oka has been with B-Line for almost 20 years and has performed many office duties. Avery and Oka made the extra, necessary effort to ensure the continuation of the quality and customer service of the previous owners.
"With my father as one of the original primary directors, I feel it is very important to carry on not only a family orientated business, but one that produces quality repairs and excellent customer service. We are all human, so mistakes unfortunately do happen; but when they do, we try very hard to correct it," Oka said. "We try to do everything we can to make the customer feel important and to take care of their needs. Michael's knowledge of cars new and old is incredible. He knows the right way to fix a car and won't stray from that regardless of what an insurance company tells him. B-Line and Michael's philosophy have always been about what is 'right' for the car. All of us hope to carry on the name B-Line Body Shop Inc. for a very long time."
For more information about any of B-Line Body Shop's products or services, call 408-279-4500, view the company on the web at http://www.b-linebodyshop.com or visit 161 Patterson St. in San Jose.
About B-Line Body Shop
B-Line Body Shop is a full-service automotive body shop and paint shop in San Jose that offers to return vehicles to like-new specifications. It uses state-of-the-art technology and equipment to ensure that the vehicle is as safe as it was when it first rolled off the assembly line. All painting is color matched to the individual vehicle using computerized paint mixers. This high-tech equipment provides a level of detail and accuracy that is unmatched by any other method.
###