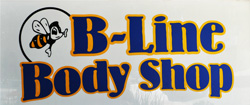 When writing an estimate for a customer, we take into account what is ultimately best for the vehicle and the owner
San Jose, CA (PRWEB) May 03, 2012
B-Line Body Shop, a San Jose collision repair center, is now offering free estimates from 7:30 a.m. to 5:30 p.m. on Monday to Thursday and 8 a.m. to noon on Fridays. Among other services, the body shop features collision repair, scratch repair, bumper repair and dent repair.
"When writing an estimate for a customer, we take into account what is ultimately best for the vehicle and the owner," said Michael Avery, co-owner of B-Line Body Shop. "We use our best judgment and take into account if it is better to replace a panel or repair it. It's not every day you experience an accident, so our service writers take time to walk through the estimate they have written for the customer. They will go line by line explaining what needs to be removed, what needs to be replaced, what needs to be painted, etc. They should leave the shop fully understanding what needs to be done and what will be done to their vehicle if the repairs are completed at B-Line."
It's always a good idea to get expert advice on any type of damage, even if it isn't being fixed immediately. B-Line has two dedicated and knowledgeable service writers who can write estimates without an appointment. Estimates typically take 20 minutes to prepare and can be e-mailed to the owner.
If an estimate needs to be sent to an insurance company, B-Line can send the auto insurance claim information electronically, including photos, if requested. Estimates at B-Line are written through Mitchell and CCC-based estimating guides.
B-Line strives to provide its customers with an honest opinion of the best repair for their vehicle.
For more information about any of B-Line Body Shop's products or services, call 408-279-4500, view the company on the Web at http://www.b-linebodyshop.com or visit 161 Patterson St. in San Jose.
About B-Line Body Shop
B-Line Body Shop is a full-service automotive paint shop and body shop in San Jose that offers to return vehicles to like-new specifications. It uses state-of-the-art technology and equipment to ensure that the vehicle is as safe as it was when it first rolled off the assembly line. All painting is color matched to the individual vehicle using computerized paint mixers. This high-tech equipment provides a level of detail and accuracy that is unmatched by any other method.