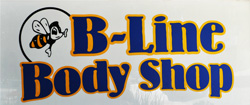 When things fall onto your vehicle, the time to remove it becomes more urgent during the hot summer days. The vehicle's surface, especially on darker colored cars, will heat up and almost act like a frying pan
San Jose, CA (PRWEB) June 16, 2012
Experts in collision repair, scratch repair, bumper repair and dent repair, San Jose's B-Line Body Shop is currently providing insightful tips on how to manage and maintain a finish in order to keep a car looking great during the summer season.
"When things fall onto your vehicle, the time to remove it becomes more urgent during the hot summer days. The vehicle's surface, especially on darker colored cars, will heat up and almost act like a frying pan. Objects such as bird droppings, tree sap and hard water will bake into the finish and cause permanent damage," Ryan Oka of B-Line Body Shop said.
Bird droppings are harmful to a finish and depending on the bird's diet, these droppings can etch the finish of the vehicle very quickly. On a hot summer day, these droppings can quickly cause permanent damage to the vehicle. To remove the damage from these marks, stripping of a panel and refinishing maybe needed.
Another damage-causing issue is sprinklers. During the summer, many people run their sprinklers to help their yard stay green. While cars are parked, the sprinklers may get the side of the vehicle wet, leaving water spots on the vehicle's surface. If this water is hard, it can etch the paint while the sun and heat bakes the hard water into the surface.
"The only way to remove the stains would be to strip and refinish the panels," Oka said. "Something as small as sprinklers can cause a great deal of damage to the vehicle."
Vandalism such as egg damage or even soda spilling on the car can also cause permanent damage if not quickly removed.
"Removing them as soon as you notice will greatly reduce the likelihood of permanent damage. If damage does occur, it is possible that wet sanding and polishing will eliminate the stain but stripping and refinishing maybe needed. We try everything to remove the stain first and then if that is not successful, we provide a free estimate of what it would cost to fix it," Oka said.
For more information about any of B-Line Body Shop's products or services, call 408-279-4500, view the body shop on the Web at http://www.b-linebodyshop.com or visit 161 Patterson St. in San Jose.
About B-Line Body Shop
B-Line Body Shop is a full-service automotive collision repair body shop in San Jose that offers to return vehicles to like-new specifications. It uses state-of-the-art technology and equipment to ensure that the vehicle is as safe as it was when it first rolled off the assembly line. All painting is color matched to the individual vehicle using computerized paint mixers. This high-tech equipment provides a level of detail and accuracy that is unmatched by any other method. B-Line Body Shop also works with auto insurance company claims and provides dent or bumper repair.