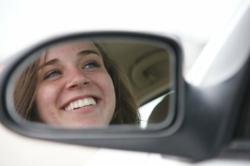 This should be a wake-up call for parents. How can we teach our teens to be safer drivers when we aren't living up to that same standard?
Salt Lake City, UT (PRWEB) April 27, 2011
Parents: tsk, tsk.
A new national study has found that eight out of 10 teens and tweens have seen their parents speeding, texting or engaging in other risky behaviors behind the wheel - a troubling truth that prompted a coalition of more than 130 auto shops, known as Collision Guard, to call on parents today to change the way they think about driving.
The statistic is particularly startling considering that many of those children – 78 percent of tweens and 66 percent of teens – also describe their mothers and fathers as potential role models for how they will behave on the road.
"This should be a wake-up call for parents," Collision Guard President Brian Nichols said. "How can we teach our teens to be safer drivers when we aren't living up to that same standard? The do-as-I-say-and-not-as-I-do approach needs to stop now."
The findings are part of a nationwide survey by Ford Motor Company, released Tuesday, that explored teens' and tweens' perceptions about their parents' driving habits.
The company also polled parents, revealing that more than half (51 percent) had been urged by their children to slow down, stop texting or refrain from some other risky behavior.
"There seems to be a gap between parents saying they drive safely and what their kids observe," said Sue Cischke, vice president of sustainability, environment and safety engineering for Ford.
The findings come just days after Collision Guard, backed by a coalition of 136 auto shops in five states, kicked off its national safe-driving campaign to confront the unfortunate reality that car crashes now rank as the leading cause of death among teens.
It's doing it through entertainment. (Twenty-nine percent of drivers admit to smooching behind the wheel?) It's doing it through automotive discounts. (Think free oil changes or $100 off a windshield.) It's doing it through education. (Collision Guard hosted a teen driving clinic this month at Utah's Miller Motorsports Park.)
"This is about changing the way people think about driving," said Nichols, who hopes his Collision Guard campaign will someday put his own collision repair shop out of business. "Too many people are dying on America's roads in crashes that are completely preventable. It's time to do something about it. It's time to save lives."
ABOUT COLLISION GUARD
Collision Guard is a fast-growing safe-driving campaign based in Utah that combines national advocacy with entertainment and automotive discounts. Unlike other campaigns that simply spread information, Collision Guard offers people an incentive to be better drivers. Collision Guard was started last year in Orem by a group of body shop owners who decided they had seen enough crashes and wanted to make a difference. The campaign - at http://www.collisionguard.com - now has hundreds of members and a social media following of nearly 7,000 people.
###