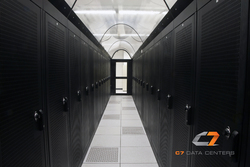 We are pleased to have gained EMIA's confidence and will ensure that they can provide their members with the highest levels of uptime and reliability
Salt Lake City, UT (PRWEB) February 23, 2010
C7 Data Centers, Inc. (C7), a national provider of colocation, disaster recovery and virtualization solutions, announced that Educators Mutual Insurance Association (EMIA) has signed a multi-year agreement as a new data center customer.
"We recognized there was an opportunity to improve website and file-transfer uptime to enhance the service we provide to our members," said Christie Hawkes, senior vice president, EMIA. "Moving essential website access and other file-transfer services to C7 Data Centers colocation facility provides us with leading uptime reliability."
EMIA offers online enrollment and benefits account management to more than 400 education, government, and commercial clients.
"We are pleased to have gained EMIA's confidence and will ensure that they can provide their members with the highest levels of uptime and reliability," added Nathan Hatch, President and CEO of C7. "We are growing rapidly and are focused on building customer loyalty by providing the highest level of security and data center performance."
About Educators Mutual Insurance Association
Educators Mutual Insurance Association of Utah is a nonprofit organization, which has been serving the needs of Utah's employers for 75 years by maximizing heath benefits while keeping premiums at a minimum. Educators Mutual offers insurance benefits and services to government, public and higher education groups. Plans are underwritten or provided by Educators Mutual Insurance Association of Utah; Educators Health Care; Educators Health Plans Health; and Educators Health Plans Life, Accident, and Health. For more information about Educators Mutual Insurance, visit educatorsmutual.com.
About C7 Data Centers:
C7 Data Centers, Inc. is a privately-held organization that has been in business since 2000. C7's four data centers total more than 40,000 square feet of space and the company is researching additional acquisition and expansion opportunities. C7 is well-positioned for the future and the company will continue to attract customers who are seeking a progressive and proven data center partner. For more information, visit c7dc.com or call 801.822.5300.
###