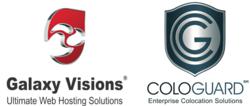 The events of the past week were a lot more than we expected, but planning and extra attention to redundancy paid off for us and for all our customers.
New York, NY (PRWEB) November 06, 2012
ColoGuard and GalaxyVisions, the New York metropolitan area's leading provider of colocation services and Internet hosting solutions, announced today that both companies offered uninterrupted service during Hurricane Sandy and continue to operate at full capacity.
GalaxyVisions' and ColoGuard's 15,000-square-foot data center suffered no damage while its customers' sites, applications and systems remained fully functional and connected.
Hurricane Sandy, the most powerful storm to strike the East Coast in recent memory, made landfall last Monday night. In addition to massive property damage from floods and wind, numerous data centers in New York City and elsewhere were taken offline. Major sites and infrastructure were unavailable for hours or days.
"Our data center was designed to withstand anything Mother Nature might throw at us," said Ray Sidler, Chief Executive and co-founder of GalaxyVisions and ColoGuard. "The events of the past week were a lot more than we expected, but planning and extra attention to redundancy paid off for us and for all our customers."
At the GalaxyVisions/ColoGuard data center, staffing levels were increased and engineers performed readiness checks of emergency power systems in the days leading up to the storm. Arrangements were also made with fuel vendors for delivery of diesel in the event of a long-term disruption of electricity.
On the night of the storm, the data center was fully staffed with technicians and support personnel who ensured that electricity and data continued to flow while answering customers' questions. In fact, regular updates were sent out via Twitter, Facebook and email during the storm and afterward. Technicians from outside firms were also called in to inspect the data center's fiber connections and the filters in the generators. Both inspections indicated no problems
Two utilities that usually supply power to the data center went dark. The facility, which is on the eighth floor of a 12-story building, was seamlessly switched over to power from two on-premise diesel generators, which continue to power operations.
"I want to thank everyone who helped ensure that our customers' critical systems stayed up during and after the storm," Sidler said. "Our prayers go out to our neighbors who are continuing to struggle with recovering from this storm. Both GalaxyVisions and ColoGuard are standing by and ready to assist in any way that we can."
About GalaxyVisions
GalaxyVisions was founded in 2003 and is a privately held managed services provider located in the heart of Brooklyn, NY. It provides affordable hosting solutions for companies of all sizes. GalaxyVisions supplies the servers, software, bandwidth and management tools needed to run almost any web-based application. From small projects to enterprise server solutions, GalaxyVisions will meet or beat the price of any competitor. GalaxyVisions is committed to excellent quality service 24/7/365.
About ColoGuard
ColoGuard Inc. was born out of the increasing need for affordable enterprise colocation solutions. ColoGuard is a privately held managed colocation facility based in the heart of Brooklyn, NY, just minutes from New York City. With a state-of-the-art in-house data center, ColoGuard's goal is to provide affordable enterprise colocation solutions for companies of all sizes. ColoGuard's facility offers a diverse network routes via dark fiber, 24/7/365 live technical support and prices and services that are unmatched by competitors. For more information, visit http://www.cologuard.com.