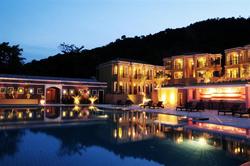 With the stressful and hectic lifestyle that most of us go through today, I found that undergoing a detox program was a way to revitalize, re-energize myself - restoring balance to my body; I had much more energy, was less tired, my skin cleared up and I lost weight!
Koh Samui Island, Thailand (PRWEB) August 1, 2008
Absolute Group is pleased to announce the opening of Absolute Sanctuary, Thailand's Premier Detox & Yoga Center. Located on the beautiful island of Koh Samui, Absolute Sanctuary is a Moroccan-inspired boutique resort which blends luxurious accommodation with detox and yoga programs to cater to those seeking a journey back to balance, rejuvenation and wellness.
As a boutique health and wellness resort, Absolute Sanctuary specializes in Detox Programs and yoga, offering world-class yoga retreats and workshops to refresh revitalize and rejuvenate. Absolute Sanctuary's three Signature Detox Programs combine of colon hydrotherapy sessions, detox drinks, herbal supplements, and nutritious meals (if not fasting). Adding yoga classes at its own yoga center and indulgent yet effective massage therapies at its spa are the perfect complement to enhance the experience.
THAILAND DETOX EXPERIENCE
The Detox experience at Absolute Sanctuary is unique. It starts with choosing the program that suits your needs. Absolute Sanctuary offers three Signature Programs: The Ultimate Detox, The Living Foods Detox and The Vegetarian Detox. The Ultimate Detox is designed to be the most effective detox program as it is a fasting program. The Living Foods Detox adds fresh fruit juices and raw food meals while the Vegetarian Detox add delicious vegetarian meals to the daily program. Then a guest simply chooses the length of time for the program. Each program is offered in pre-set lengths of 3, 5 and 7 days. However, Absolute Sanctuary can also customize the length of the program based on its guests needs. And each program begins with a personal consultation and is followed through under professional guidance to ensure the objectives of all guests are met.
The Detox Programs are structured around one colon cleaning session each day, effective detox drinks made from high-grade organic psyllium and specially processed bentonite clay, a medicinal clay used for centuries, and a set of nutritional supplements to provide balanced nutritional support as well as to further the detoxification process. These supplements are imported from an US-based company dedicated to health, vitality and longevity selling highly-researched and carefully-developed wholefood supplements for over 50 years.
ABOUT COLON CLEANSING
Colon cleansing is a key part of the program. Colon cleansing is an alternative therapy meant to detoxify the body by removing old material from the colon (the large intestine) using a gentle flow of water. It can be quite beneficial to cleanse the colon and improve digestive health as digestion has direct impact on the health and vitality of the entire body.
Colon hydrotherapy has been around for centuries and there are various methods of colon cleansing. The most common methods include the do-it-yourself method of colema board and the "open system" and the "closed system", both of which use installed equipment and are both used under the guidance of trained therapists. The colema board can be used in one's own home. The methods of cleansing are similar in that they all infuse water into the large intensive via a small catheter inserted into the rectum. This flow of water is only pressurized by gravity so the flow is quite gentle. The infusions can be entirely water or can incorporate items that enhance detoxification and healing, e.g., organic coffee or apple cider vinegar. The session last about 45 to 60 minutes on average and over the course of the session approximately 20 liters of water are used.
THAILAND'S LUXURIOUS DETOX CENTER
The Detox Center at Absolute Sanctuary features 9 private rooms each with modern colon hydrotherapy equipment (designed as "open system") for the utmost convenience, comfort and hygiene. There are also private hydrotherapy beds in two of Absolute Sanctuary's Suites. Every colon hydrotherapy session is under the guidance of trained nurses. The detox rooms are even equipped with MP3 players and speakers so guests can choose their own soothing sounds during the treatment.
The Yoga Center at Absolute Sanctuary is modeled after the 9 other successful Absolute Yoga Centers in Bangkok and Singapore owned by the ABSOLUTE YOGA GROUP. The Yoga Center at Absolute Sanctuary is a full-service yoga center with a variety of yoga classes taught all day, every day. The Yoga Center features a beautiful bright yoga studio with wood floor, floor-to-ceiling windows, custom heating system and, like all Absolute Yoga studios, yoga mats and towels are always provided. The Yoga Center is open not only to resort guests but also to Koh Samui residents, so it is a great place to meet new friends.
YOGA THAILAND-STYLE on KOH SAMUI
The Yoga Center offers different classes to suit all types of students. The current class schedule includes Absolute Yoga's own Hot Yoga class, Hot Flow, Flow, Yin, Hatha and Detox Yoga classes as well as mat pilates classes. In addition to conducting daily classes, it will also arrange regular workshops, retreats and teacher training sessions that will be conducted by some of the best known names in the yoga world. With its dedication to yoga, it is positioned to be at the forefront of yoga practice in Asia, linking students with world-renowned gurus and teachers to learn from and interact with each other.
In addition to offering daily classes and special events with international yoga masters, they offer Yoga Holiday packages of 3, 5 and 10 days which include unlimited yoga classes, daily massage treatment and 3 meals daily. Perfect for those who want a healthy, invigorating getaway or just can't miss a day of yoga practice - even on holiday.
DETOXIFYING SPA TREATMENTS
In addition to its world-class Detox Center and Yoga Center, Absolute Sanctuary includes its own spa with a specially developed spa menu to provide different options of healing therapies. In addition to standard therapies like royal thai massage, aromatherapy oil massage and facials Absolute Sanctuary has added specialty massage like sports massage, medical massage, lympathic massage and magnesium foot bath for more focused body work. Two signature treatments are their Four Hand Massage in which two therapists work on the body at the same time synchronizing movement and pressure and their Healing Hands treatment which combines acupressure and reiki energy balancing. Their spa packages, known as their Rejuvenating Programs, are great value with combination daily body therapies, facials, yoga, meals and juices.
THAILAND HEALTH SPA CUISINE
The Love Kitchen is the name of Absolute Sanctuary's restaurant. The Love Kitchen's philosophy is that the most healthful and healing foods come straight from the earth. So it uses only the freshest, high quality, whole-food ingredients possible. They use sea salt made in Thailand, locally grown produce, whole grains like whole wheat and brown rice, cold-pressed oils and superfoods like spirulina and flax seeds. They make everything from scratch - muffins, breads, granola, trail mix, soups and sauces. And everything is always made fresh to order. They offer an extensive drink menu with organic teas, fresh fruit juices in delicious combinations and "super juices" infused with high quality supplements. Its food menu is infused with flavors from around the world offering dishes delicious soups and salads. Its tantalizing main dishes are highlighted by its signature Choeng Mon Burrito with handmade whole wheat chipatis, Nori Hand Rolls and Thai favorites like Som Tam Green Papaya Salad and Masuman Curry served with brown rice.
THAILAND'S NEWEST DETOX RESORT
True to the boutique style of resort, Absolute Sanctuary has only 38 guests rooms. The guests rooms are also infused with the enchanting styles of Morocco - with whimsical fabrics and cushions, lamps and tiles, and the soothing color themes. All the luxurious rooms include the modern amenities we've come to expect. Each room features the most comfortable beds and linens, air-conditioning and ceiling fan, en-suite bathroom and toiletries such as shower gel, shampoo, cotton buds, as well as desk, safe, mini-fridge, flat screen TV and telephone. And each room has its own private terrace. There are three levels of rooms at Absolute Sanctuary. The Sanctuary Superior room is the best value with either two twin beds or one queen bed. The Sanctuary Deluxe rooms have king beds and beautiful sea views. The Sanctuary Suite is the most spacious with a four-poster king bed and cushioned lounge.
Additional facilities include a 20 meter by 8 meter infinity-edge pool, juice bar, steam room and a mini-theatre with comfortable loungers where there are nightly showings the latest art house film or Hollywood blockbuster. If the seaviews compel you to relax on the beachside, there is a shuttle service to Choeng Mon beach, just a 5minute drive away. And, because email accounts still beckon even while on holiday, Absolute Sanctuary offers free wireless internet for its guests.
Absolute Sanctuary is a dream come true for its founders, Benjaporn Karoonkornsakul, and Jeanne Chung. They both discovered the undeniable benefits of detox after their first detox program. Jeanne recalls, "With the stressful and hectic lifestyle that most of us go through today, I found that undergoing a detox program was a way to revitalize, re-energize myself - restoring balance to my body; I had much more energy, was less tired, my skin cleared up and I lost weight!" She continues, "With so much stress and toxins that our bodies take in daily, our detox programs offer a way for people to get away from their busy lifestyle and help rid their bodies of all these damaging substances, leaving them feeling cleansed and rejuvenated ready to tackle the world."
"We believe that since both detox and yoga are a great complement to each other and are not just about the body but also the mind and spirit and dreamt of creating a special get-a-way to indulge in both," says Benjaporn or Ben, as she is affectionately known. She adds, "Our mission is to help our guests re-fuel with good energy, exquisite nutritious cuisine and healing body therapies. Our Hope is that guests will continue to lead a healthy and happy life long after their journey at ABSOLUTE SANCTUARY."
ABOUT ABSOLUTE GROUP
The Absolute Group owns and operates Absolute Yoga, Asia's premier yoga centers. Established since 2002, Absolute Yoga is now the largest yoga studio in Thailand, with 7 yoga centers nationwide and 2 studios in Singapore.
Through its yoga centers, Absolute Yoga Group has taught over 50,000 students, with the numbers increasing every year. Its aim is to continue delighting the minds, bodies and practices of yoga enthusiasts in Asia.
For more information, please contact:
Claire Bostock
Resident Manager
Director & Program Director
Absolute Sanctuary (Koh Samui)
88 Moo 5, Bophut
Koh Samui, Suratthani 84320, Thailand
Tel No: +66-77-601-190
Email: claire @ absolutesanctuary.com
Website: http://www.absolutesanctuary.com
###