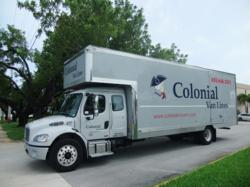 We always try to give back to the community and this was the perfect opportunity for us to help out a deserving individual
Margate, Florida (PRWEB) November 23, 2012
On Thursday, November 15th, Colonial Van Lines (CVL), a moving company based in Margate, FL, provided a free move for Georgia resident Mark Roberson and his wife Gloria. This was the latest update in a flurry of good news for Roberson, who recently won the Taylor Morrison 2012 Dream Home Giveaway Contest. Taylor Morrison, the largest private home builders in the country, awarded Roberson with a $200,000 dream home after his name was randomly selected from a list of hopefuls. When Aldo DiSorbo, Owner of CVL, heard about Roberson's story, he wanted to add to the good fortune of the out-of-work truck driver.
"We always try to give back to the community and this was the perfect opportunity for us to help out a deserving individual," said DiSorbo. "Without the support of the community our business wouldn't succeed, so we just wanted to do something to give back. It's all about spreading good karma."
Thanks to CVL, Roberson saved thousands of dollars in a full-service move that took all of his furniture, electronics and other possessions from his old home in Clarkston, GA to his dream residence in Houston, TX. For the 13-hour, 800 mile-plus journey, CVL provided one of its state-of-the-art moving trucks, a well-trained, experienced crew of movers and all of the supplies needed to safely pack and transport Roberson's most valued items.
"CVL is all about customer service and satisfaction. This is the foundation that we were built on," said DiSorbo. "No matter what the specifics of a move may be, we always uphold a certain quality. Even though this move will be free, we made sure that Mark and his wife got the best. We wanted them to enjoy a stress-free move by any means," he added.
Even though Roberson was laid off from his job as a DeKalb County truck driver, he has certainly been making as many moves as possible. In between submitting resumes to dozens of companies, Roberson found time to enter the Taylor Morrison contest one day and never really expected to win. Well, as fate would have it, he did. Per contest rules, Roberson was allowed to choose the destination of his new home in any of the cities where Taylor Morrison operates. Once he chose Houston, construction began on the home which came complete with an interactive home entertainment system and other Taylor Morrison perks.
About Colonial Van Lines
Colonial Van Lines is family owned and operated and boasts more than a decade of moving experience. The company successfully heads long distance moves throughout the continental United States by offering affordable and unique moving services. For more information on Colonial Van Lines, visit http://www.cvlmoving.com
About Taylor Morrison
Taylor Morrison is the largest North American privately-owned homebuilder based in the United States, as reported by Hanley Wood based on 2011 revenues. Headquartered in Scottsdale, Arizona, Taylor Morrison is a builder and developer of single-family detached and attached homes. Under the Taylor Morrison brand, the Company operates in Arizona, California, Colorado, Florida and Texas. Under the Monarch brand, the Company operates in Ontario, Canada where the Company builds and develops single-family detached and attached homes in both Toronto and Ottawa.