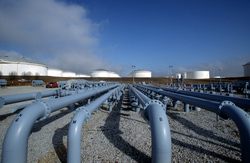 We are rightfully proud of this accomplishment, which is significant not only to our employees but to the families depending on us
Alpharetta, Ga. (Vocus) December 2, 2009
Colonial Pipeline today celebrated 10 million hours of employees working without a lost work-time injury. The safety milestone represents more than seven years of employees working safely.
In congratulating employees, Colonial CEO Tim Felt reminded that working safely is a job that starts fresh every day.
"We are rightfully proud of this accomplishment, which is significant not only to our employees but to the families depending on us," Felt said. "But we must never forget that the public expects nothing less than safe operations from Colonial and the entire pipeline industry. When a pipeline right of way runs alongside your property, no accident is acceptable."
During the past 10 million hours, Colonial Pipeline has safely completed a number of major construction projects, from replacing a segment of line underneath the Susquehanna River in Maryland to lifting an underwater line in southern Mississippi to replace block valves, to boring a new line under Interstate 65 near Birmingham while traffic continued above.
During those seven years, Colonial weathered four historic hurricanes and excavated approximately 6,000 segments of line to visually inspect the integrity of the steel pipe. Colonial programs to protect the pipeline and people represent a company-wide expenditure of more than $75 million every year.
On matters of pipeline and employee safety, the refined petroleum product pipelines answer to the U.S. Department of Transportation, the Department of Labor and the Environmental Protection Agency as well as a variety of state agencies.
As a whole, the pipeline industry has elevated safety and safe operations to new levels of prominence. During the past decade, the number of spills has declined by 60 percent, thanks in part to national campaigns such as "811 Call Before You Dig."
"People count on pipelines to bring them the fuels they need every day," said Jack Gerard, head of the American Petroleum Institute, which represents the U.S. energy industry. "To be that reliable source of energy, pipelines need to operate safely and protect the well-being of their employees, the public and the environment."
Gerard congratulated Colonial on reaching the 10 million-hour milestone. "The entire industry can appreciate the kind of commitment necessary to avoid serious injuries on the job for that many years," Gerard said.
Colonial delivers refined petroleum products such as gasoline, diesel fuel, jet fuel and fuels for the U.S military on a 5,500-mile network of pipelines that connects the refineries of the Gulf Coast with markets throughout the South and East. Colonial Pipeline begins in Houston and terminates at the New York harbor. Please click here for more information about Colonial Pipeline Company.
###