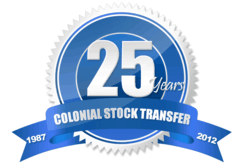 Colonial Stock Transfer began what continues to be an amazing journey since the company signed its first client to transfer agent services on October 13, 1987.
Salt Lake City, UT (PRWEB) October 22, 2012
Colonial Stock Transfer is excited to celebrate its 25 year anniversary of providing stock transfer agent services to clients around the globe, as well as its surrounding community.
Over the last 25 years Colonial's professional team has been serving the stock transfer needs of issuer corporate clients and their shareholders. These services include annual shareholder meeting and proxy, EDGAR and XBRL filing, press release distribution, employee stock option plan administration (ESOP), and dividend paying services. Some of Colonial's landmark accomplishments include the assistance of thousands of companies with PPMs, IPOs, SPOs, spin-offs, reorganizations, tender offers, escrow disbursements, and some notable merger and acquisitions involving companies such as C.R. Bard, Investools, and Moog.
Colonial would like to take this landmark opportunity to express appreciation and gratitude to all employees, friends, and clients whose hard work, dedication, and support have helped reach this milestone anniversary.
To celebrate this occasion, Colonial Stock Transfer is offering 2 months of free service for companies that sign up for transfer agent services in the months of October through December.
After a quarter-century of providing these services, Colonial can offer the expertise that only comes from experience, and continue to be a leader among transfer agents assisting private and public companies grow.
About Colonial Stock Transfer Company: Colonial Stock Transfer Company, Inc. is a leading stock transfer agent providing first class service combined with cost saving efficiencies. With over 25 years of being in business, Colonial Stock Transfer offers a synergetic combination of technology and personalized, energetic, professional and experienced customer service. In addition to transfer agent services, Colonial Stock Transfer offers Annual Shareholder Meeting and Proxy Services, EDGAR and XBRL Filings, Press Release Distribution, Employee Stock Option Plan Administration (ESOP), and Dividend and Escrow Paying Agent Services. Colonial serves public companies listed on NASDAQ, NYSE AMEX, OTC Bulletin Board, and Pink Sheets and offers a full suite of services for privately-held companies. Colonial Stock Transfer has been registered and in good standing with the Securities and Exchange Commission since 1987. The firm is a DTC FAST and DRS agent participant and are active members of the Securities Transfer Association (STA).
Contact:
Colonial Stock Transfer Company, Inc.
877-285-8605
http://www.colonialstock.com