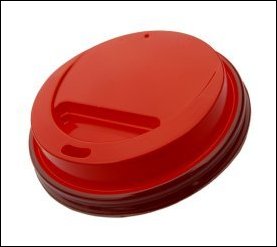 We are extremely pleased to be involved with the ascendancy of this excellent product and our enthusiasm is equally shared by our international network of distributors and their end user customers
Sydney (PRWEB) April 25, 2007
The multi-award winning color changing coffee lid is set to become a worldwide hit after Australian inventors secured an international license agreement. Smart Lid Systems, the product development firm behind the lid, has appointed Thermo International as their key global manufacturer.
The innovative lid alerts consumers their coffee/tea may be too hot by changing from a dark coffee bean color to a bright red when the lid is applied. Secondly, the lid visually indicates whether or not it is securely attached to the takeaway cup, placing coffee house owners and consumers at ease regarding the safety concerns of hot coffee spillages.
Localized distribution rights are now being negotiated across USA and Europe with manufacturing underway.
White lids offer no visual aids where the ideal consumption temperature for coffee is 152°F, while liquid burn hazards commence at 140°F. The Aussie lid completes the color change at 115°F, allowing a 'red glow' to warn drinkers of the hot contents.
Ms. Freya King, owner of Sydney based cafe 'The Bean Palace', stated "once the lid is on the cup all staff and customers can see its hot and that the lid is on tight, it should be an industry standard as the extra cost is worth it".
Smart Lid Systems' Managing Director Mr. Nick Bayss commented on their market readiness by saying:
"Substantial interest from American foodservice companies has forced our company to source a much larger supplier with global capabilities.
Thermo International was selected due to their ability to meet the ever-increasing demand for high-end quality packaging for specialty coffee while offering our technology at a very competitive price."
Thermo International's VP of International Business Mr. Marc Miller added:
"We are extremely pleased to be involved with the ascendancy of this excellent product and our enthusiasm is equally shared by our international network of distributors and their end user customers".
After winning two major packaging competitions in the USA, a Dupont Innovation Award and a QSR / FPI Packaging Award, this innovation has already made waves in an industry that consumes tens billions of lids annually.
About Smart Lid Systems:
Smart Lid Systems is a Sydney based product development company with multiple patents granted and pending worldwide, uses food-contact compliant additives which adhere to FDA guidelines, and is 100% recyclable.
http://www.smartlidsystems.com
About Thermo International:
Thermo International, who is headquartered in Hong Kong, supplies food service packaging such as paper cups, disposable lids, food containers and plastic cups to global packaging distributors.
http://www.thermointernational.com
High resolution pictures available at our Media Resource page.
http://www.smartlidsystems.com/mediaresources.htm
Contact Details:
Nick Bayss, Managing Director
Tel: +614 0348 5858
nbayss @ smartlidsystems.com
###