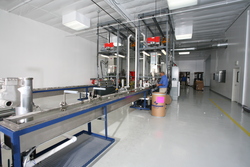 The growing demands for clean compounding from the medical, pharmaceutical and food packaging industries drove our decision to build this facility.
Calumet City, Ill. (PRWEB) February 1, 2011
PCC (Plastics Color Corporation), a leading polymer solutions provider and supplier of color concentrates, pre-colored resins and additive masterbatches for the plastics industry, has announced the opening of its new clean compounding facility in Southern California.
Modeled after PCC's successful "Plant-Within-a-Plant" concept operating at PCC's Asheboro, North Carolina campus since 2009, the California operation was designed to address risk mitigation. The plant operates in a clean environment where special measures have been taken to guarantee clean compounding. Water curtain air filters remove particulates from the plant's air supply. The air is cycled every four to five minutes through this system. The water for the strand cooling baths passes through a five-micron filter and ultra-violet lights that destroy 100 percent of all microbes, providing a clean product for medical and food use.
According to project manager Alan Abrams, "The entire process only requires the operator to start the process at the raw material point, after that, the production line is hands-off."
"We have taken great care to provide a needed production methodology to the marketplace," says Joe Byrne, VP of Sales and Marketing. According to Byrne, "We have identified this configuration as the best way to meet the clean compounding aspect of production along with the speed and flexibility requirements of an ever-changing market." The California plant will address PCC's existing customers' needs in a wide range of manufacturing markets, product types and volumes.
In keeping with PCC's commitment to environmentally sound manufacturing, the plant uses the latest low energy-consumption machinery and a lighting system that uses daylight when available and low energy fluorescents only when necessary and when turned on by motion sensors.
"The growing demands for clean compounding from the medical, pharmaceutical and food packaging industries drove our decision to build this facility," said Byrne. "Our California plant offers state-of-the-art capabilities in an environment designed to meet the strictest requirements of these industries." The plant will also warehouse PCC's commodity products for rapid distribution to locations in the U.S. and Mexico.
About PCC: PCC (Plastics Color Corporation), headquartered in Calumet City, Illinois, is a global provider of custom polymer solutions, compounds, colorants, and additive masterbatches in an extensive range of markets; from pharmaceuticals packaging to medical devices to consumer packaging to sporting goods and many more. PCC supports a wide variety of manufacturing processes, materials and additive packages that include: process additives, pigment blends and thermoplastic compounds of all types. Partnerships with customers to meet specific challenges -- from concept to commercialization -- define PCC's approach to the market. PCC is dedicated to its "Pyramid of Partnership," which compels vendors, customers and associates to share the latest information and technology for mutual benefit. PCC has more than 40 years' experience in the polymer industry and operates fully-equipped product development laboratories and manufacturing facilities in California, Illinois, North Carolina, and Nanjing, China. PCC's Illinois lab is certified by the American Association of Laboratory Accreditation, A2LA. PCC also provides testing and product development services through its Solutions Center in North Carolina as part of its commitment to the customer.
For more information call 1-800-922-9936 or visit http://www.plasticscolor.com.
###