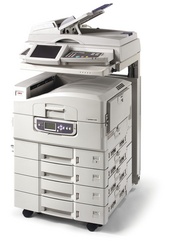 OKI Printing Solutions is changing the definition of color MFPs by offering such advanced technology and functionality as standard features that enhance everyday business processes
MOUNT LAUREL, N.J. (PRWEB) March 26, 2008
Highlights of press release:
-- Embedded EFI SendMe(TM) for advanced document capture, editing and routing capability, as well as optimization of current systems such as Microsoft(C) Windows(C) Sharepoint(C)
-- Embedded EFI Fiery(TM) System 8e controller for print management and graphic artist-quality color documents
-- CX3641 MFP key features ease workflow for IT professionals
"OKI Printing Solutions is changing the definition of color MFPs by offering such advanced technology and functionality as standard features that enhance everyday business processes," said Mike Garofola, Sr. Marketing Manager, Color Products at Oki Data Americas, Inc. "With scanning trends migrating towards digital archiving and information sharing, a major concern of IT professionals has become efficient document management. We listened to our customers' needs and embedded EFI SendMe(TM) functionality directly into the CX3641 MFP. This allows for seamless conversion and integration of hard copy documents into current document management systems - making workflow processes more efficient and time-saving."
Embedded EFI SendMe(TM) for advanced document management capability
Businesses that have already made a significant IT investment will be able to utilize their resources more efficiently with the CX3641 MFP and optimize their current document management systems, like Microsoft(C) Windows(C) Sharepoint(C), Interwoven WorkSiteMP(C) and Captaris(C) Rightfax(C), by adding optional real-time integrated connectors. The embedded SendMe(TM) functionality creates a one-step, integrated business workflow process allowing users to scan, edit and route documents directly from the customized control panel or to the desktop through in-box desktop document management software. The CX3641 MFP also emphasizes ease-of-use for IT professionals by avoiding the addition of new software and servers into their networks, minimizing the training on specialized document software and eliminating the cost for multiple copies of desktop PC software.
Embedded EFI Fiery(TM) System 8e controller for print management and graphic artist-quality color documents
The embedded Fiery(TM) System 8e controller used in the CX3641 MFP adds a new level of value to the A3 Color MFP market, as it provides a tool that automates workflow and creates graphic artist-quality color documents with ease. The CX3641 MFP is ideal for users with color-critical applications, such as advertising agencies, design firms, marketing communications departments and commercial printers that focus on their budgets as much as they do for the quality of their color document output.
"In addition to advanced document and color management capabilities, the CX3641 meets the needs of an every day business color MFP because of its acquisition cost and low cost of operation," said Garofola. "As the newest product introduced within OKI Printing Solutions full product line, the CX3641 MFP includes our signature High Definition (HD) Color and Single Pass Color Technologies - allowing those upgrading from a dedicated mono MFP to quickly realize the benefits of incorporating high-quality color output into their business. Users will save on time and money by no longer needing to outsource color printing and copying requirements."
CX3641 MFP key features ease workflow for IT professionals
Redefined Productivity
-- Standard embedded EFI SendMe(TM) functionality allows for user-friendly scanning. This enables users to convert paper documents into electronic media as well as clean, edit and annotate documents in a one-stop process
-- Point-of-scan and real time meta-data entry critical to content management systems, increasing productivity and efficiency
-- High quality business color printing and copying at up to 36 ppm, black & white (monochrome) and up to 40 ppm color(i) for increased productivity
-- Duplex 100-sheet Automatic Document Feeder (ADF) scans both sides of a color document simultaneously to save time and increase productivity
Unmatched Print Quality and Media Flexibility
-- Standard embedded EFI Fiery(TM) System 8e Controller with Fiery Smart Rip Technology, producing graphic artist level color for everyday business users
-- HD Color Printing technology for outstanding print quality featuring increased color depth and richer hues - even on ordinary office paper
-- Single Pass Color(TM) Digital technology allows for printing on a wide range of media up to 170 lb. (307 gsm) index card stock and sheets up to 12.9" x 47.24" long
Improved Bottom Line
-- True 1200 x 1200 dpi resolution to render professional print quality in-house, while remaining conducive to strict business budgets
-- Printing, copying, scanning and analog faxing capabilities, allowing businesses to optimize office space and save cost through the use of one integrated office device
Increased Ease-of-Use
-- Full-color LCD touch-screen operator panel for walk-up access to SendMe(TM) and print/copy/scan/fax functionality
-- Multitasking functionality includes sending or receiving a fax while printing/copying and/or scanning while printing/copying
"The embedded features, HD color quality and overall functionality of the CX3641 MFP signifies that OKI Printing Solutions is committed to taking a leadership position in the color MFP market by providing technology solutions that will make our customers more productive while improving their bottom line," stated Garofola.
The CX3641 MFP has an estimated list price of $19,000 with the embedded technologies valued at more than $10,000. The CX3641 MFP will be available in March and sold exclusively through OKI Printing Solutions authorized dealers in the US and Canada.
All products build on parent company Oki Data Corporation's history of leadership and innovation in color printing. It is based on the 8th generation of printing technologies advanced by Oki Data Corporation, such as digital LED technology and Single Pass Color(TM). This technology allows OKI Data to manufacture products that require fewer moving parts for increased reliability.
Like all OKI Printing Solutions products, the CX3641 MFP is backed by comprehensive support from authorized OKI Printing Solutions Dealers. In addition, the company provides live, toll-free(ii) technical support 24 hours a day, 7 days a week, 365 days a year, with agents based in North America.
Editor's Note: To view a video demo of the CX3641 MFP, please contact Allyson Marcus at amarcus@domus1.com or Kerry Butler at kbutler@domus1.com for the website link and password information.
About Oki Data Americas, Inc.
Oki Data Americas, Inc. (http://www.okiprintingsolutions.com/us), headquartered in Mount Laurel, N.J., and a subsidiary of OKI Data Corporation of Japan, markets PC peripheral equipment and customized document management solutions under the OKI Printing Solutions brand, including digital color and monochrome printers, color and monochrome multifunction products and serial impact dot matrix printers, as well as a full line of options, accessories and consumables. Oki Data Americas takes a consultative approach to supporting every customer's needs and delivering individualized print solutions that optimize business performance. The company's innovative technology is backed by its parent company Oki Electric Industry Co., Ltd., a world leader in information processing systems, telecommunications and electronics and a $6.1 billion multinational corporation with headquarters in Tokyo. Keeping its customers needs top of mind, Oki Data Americas is ISO 9001:2000 certified and most products have earned the ENERGY STAR(R) certification.
Oki, Reg. OKI Electric Industry Co., Ltd. ENERGY STAR Reg. T.M. U.S. EPA, Single Pass Color T.M. and design Reg. T.M. Oki Data Corp., EFI and Fiery are registered trademarks of Electronics For Imaging, Inc. in the U.S.
(i) Published performance results based on laboratory testing. Individual results may vary.
(ii) Available in the U.S. and Canada only.