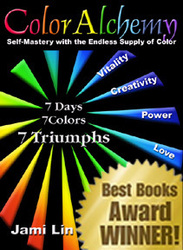 Certain colors improve skin conditions
Miami, FL (Vocus) August 22, 2009
LookYoungerOasis.com offers complimentary youth-enhancing, color therapy facials to look younger and feel better. Rejuvenating skin care also enhances mental, physical and spiritual health. Learning the attributes of color identifies life needs and desires. With these time-tested attributes, do-it-yourself massage and skin care treatments can utilize color therapy to enhance benefit to the skin as well as to the psyche.
On a recent CNN television interview, Jami Lin, award-winning author of "ColorAlchemy" and licensed skin-care specialist, says, "Color aids in providing the feel-good spa experience at home." "Using colored light around the room and on the skin with your crèmes and acupressure, stimulates the energy channels in the body (know as meridians in Chinese medicine) to enhance heart, lung, kidney, liver and stomach function while enhancing skin tone and texture."
Skin-care processionals prepare for appointments with clients, when interviewing a patient, therapists can ask them questions that identify the areas in their lives where they find themselves struggling and do-it-yourself-ers can do the same. Evaluate the attributes of the seven-spectral colors and how they identify imbalances will help determine which colors to use. Or rely on intuition by choosing a card from a face-down deck of rainbow cards such as Jami Lin's Triumph Oracle.
Choose red, color therapy for help with physical stamina, vitality, and strength. Orange is beneficial for those looking to achieve a better body image, and thus heighten sensuality and desirability. Those seeking greater personal power, confidence, and success benefit from yellow. Green aids those looking for more love and trust in their lives. Blue provides a sense of peace and improves communication. Indigo awakens inner intuition. Violet awakens spiritual love, cosmic intelligence, and divine bliss.
"Certain colors improve skin conditions," according to Lin. "Green helps reduce wrinkles. Blue, turquoise, and indigo can counteract red, inflamed skin, such as is found in rosacea. Red stimulates circulation, collagen, and elastin. Yellow improves discoloration. Blue, turquoise, and violet can also help clear acne and control other bacteria on the facial skin."
Observing personalized color needs can determine which color is required during treatment. Apply the appropriate colored light during do-it-yourself facials. According to Jami Lin, "Many skin-care professionals apply ColorAlchemy to their facials by using LED light treatments in all of the seven spectral colors. Use masks, toners, and other products that are of a certain color, or stored in a certain color bottle to further enhance the color benefits.
Be aware of existing skin conditions that could be accelerated with color therapy. If needing red therapy to boost stamina and vitality, but have red skin or rosacea tendency, red shouldn't be applied. Instead, go for the second best color, which would be orange in this example.
If using a skin-care professional who uses color therapy, the techniques allow for a greater connection between the client and practitioner. This connection allows for a spiritual energy exchange between the two, benefiting both.
For more color therapy tips to incorporate into skin care visit Jami Lin at LookYoungerOasis.com.
About us
Jami Lin's (JamiLin.com) new, award-winning "ColorAlchemy" book (ColorAlchemy.com), is heralded as ''advanced thinking for infinite possibilities.'' She is a 30-year veteran of interior design and licensed skin-care professional specializing in ColorAlchemy facials. Her expertise evolved into Feng Shui (Feng-Shui-Interior-Design.com), international recognition as a master with six best-selling books, an online home-study certification program, and PBS-TV pilot. Color is her trademark.
Jami's media section provides the press with valuable, tailor-made content using color therapy, Feng Shui, design, and youth-enhancing wellness in: Lifestyle/General Interest, Family/Children, Business Success, Home/Garden, Health: Body, Mind, Energy Medicine, Youth-Enhancing Secrets, and Human Spirit/Awareness.
Jami Lin is available for interviews.
Photographs available on request.
Media contact:
Joy Starr
941-276-8689
ColorAlchemy.com
Written by:
Andrea Coventry
585-482-7702
montessoriwriter.today.com/where-to-read-me
###