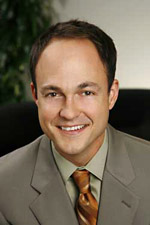 Over the past 10 years, insurance companies have felt the sting of construction litigation and have re-written policies for their own benefit. -- Aaron Atkinson
Littleton, Colo (PRWEB) October 23, 2012
The devastation of this year's Colorado wild fires should spur Coloradans, and homeowners everywhere, to review their insurance, inspect their homes and document their possessions, according to Aaron Atkinson, a construction defects and claims disputes attorney with the Denver law firm of Atkinson | Boyle.
Here are the Top 5 Tips For Navigating Insurance Claims Disputes
1. Check your landscaping. Colorado has very expansive soils. When water is introduced, certain types of dirt expand rapidly. If this happens within five feet of a home's foundation wall, unexpected new pressures are applied to the wall.
Expanding soils can cause foundation cracks, differential movement of a home, and, ultimately, water intrusion. When the insurance adjuster inspects, the first denial of coverage may relate to those beautiful shrubs next to the foundation. He may "grade" the claim lower because water has been introduced into the soil so close to the foundation.
Most homeowners don't truly grasp the destructive power of water. Never put any irrigation lines in the zone near the foundation. If a homeowner must have plants in these locations, choose low-water, or no-water species.
2. Photos/Videos. A picture is worth a thousand aspirins. Taking photos or videos of a home and personal possessions is a great way to prove their quality (and, of course, their existence) prior to a large loss from fire or water damage. Check with your insurance carrier that estimates of personal possessions worth are valid in order to save a large headache later.
Use photo evidence to authenticate of the state of a newly-constructed home during the warranty walk-through or shortly thereafter. Deterioration of bad concrete, siding or stucco can easily be illustrated with before and after photos. This may be the "smoking gun" with a contractor or insurance adjuster who won't want to take responsibility.
3. Call at the first sign. Time is not on the homeowner's side. Insurance policies punish homeowners who fail to report problems promptly. More importantly, statutes of limitations bar suits from property owners who wait too long to exercise their legal rights.
Report problems or communicate with the home builder or contractor for any problems, as well. It is always in their best interests to "slow play" the repairs or analysis. It is always in the homeowner's worst interests to allow this.
The last thing a person wants is to bring a lawsuit, but that option should be considered in case negotiations become strained or fail altogether. There's no going back once the law officially bars insurance claims.
A good lawyer can offer useful advice as to date of the statute of limitations; that's a good one to calendar along with the expiration date of the warranty.
4. Review warranties and watch for any damage. All products installed in a home are likely to have an express warranty against failure. It is a good idea to calendar the deadlines for each warranty. After installing new windows or a new roof, the warranties have specific time limits for claims for failure. Take time to inspect windows every year to ensure the seals are fresh and keeping out rain and snow.
New home buyers have a warranty walk-through with the builder shortly before the expiration date, according to Atkinson. "It's even a good idea to have a home inspector analyze a home's performance and compliance before any warranty expires. This process can prevent being caught off guard by the builder or the warranty company who claims there's nothing wrong," Atkinson said.
In the event of a hailstorm, have a reputable contractor inspect roof shingles promptly to assess any damage. Neglecting the inspection will ensure that, over time, small defects turn into larger failures.
Don't wait more than 10 years to repaint a home's exterior. It's a major expense but it has major benefits. The process seals the home exterior regions and deters water intrusion.
5. Right insurance coverage. Over the past 10 years, insurance companies have felt the sting of construction litigation and have rewritten policies for their own company benefit. The result may be that something once considered covered really isn't, which can leave an owner stranded and out of luck.
Before renewing a policy, or before closing on a home, take the time to know the status of applicable insurance coverage in the event of a water loss of any kind. If needed in an insurance dispute, conduct an in-depth lawyer search to locate a law firm that is experienced in litigation cases involving insurance claims disputes.
Make sure to carry the right insurance, that is, insurance with proper coverages, deductibles and few exclusions. Consulting with a savvy insurance broker or lawyer in this area of practice about the best coverage to maintain will go a long way to ensuring proper coverage in the event of a product or installation failure.
Atkinson-Boyle, PLLC's, attorneys have spent years working for major insurance companies in Colorado defending both personal injury and construction-related litigation. With this experience and industry knowledge, we understand the other side's protocol, procedures and strategy allowing us to anticipate their every move.
Contact
Aaron Atkinson, Attorney At Law
5575 S. Sycamore Street, Ste 101
Littleton, CO 80120
phone: 720.379.5480
http://www.atkinsonboyle.com
http://www.superlawyers.com/colorado/lawfirm/Atkinson--Boyle-PLLC/6e9b8168-c90b-4695-8b41-d4a0f9727772.html
aaron(at)atkinsonboyle(dot)com