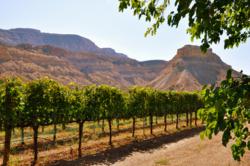 Palisade, Colo. (Vocus/PRWEB) March 15, 2011
The 20th Annual Colorado Mountain Winefest is scheduled for Sept. 15-18, 2011, with the Festival in the Park Sept. 17, in Palisade, Colo. Palisade is in the heart of Colorado's wine country with approximately 85 percent of the grapes feeding the state's wine industry being grown in the Grand Valley.
The 20th Annual Colorado Mountain Winefest will have Colorado-grown and produced wines for tasting, wine competitions, great music, educational seminars, winemaker dinners, a V.I.P. experience, winery tours and more.
"This is a celebration of the great wine and wine industry that is continuing to grow within the state and gain notoriety beyond the state's borders," Colorado Mountain Winefest Executive Director Sarah Catlin said. "Being the 20th year, we expect to have a record number of wineries participate in the event."
The 2010 Colorado Mountain Winefest boasts more than half of the state's wineries in attendance. Besides the Grand Valley of the Western Slope, wine is produced in the Four Corners, Delta and Montrose Counties, the Rocky Mountains and Front Range areas.
"People are surprised there are so many wineries in a state known for snow," Catlin said. "The warm days and cool nights of the Western Slope, paired with the 4,000' to 5,000' elevation makes the area perfect for grapes, but there are ideal areas for grape growth across the state."
In addition to the 20th Annual event in Palisade, Colo., the First Annual Colorado Winefest Denver is scheduled for June 11, 2011, at The Shops at Northfield – Stapleton.
About Colorado Mountain Winefest
The 20th Annual Colorado Mountain Winefest is Sept. 15-18, 2011. Thousands of wine lovers make the annual pilgrimage to Palisade, Colo., to sample a growing array of Colorado wines and participate in a variety of events, including winery tours, chef demonstrations, V.I.P. events and the always popular grape stomp. Colorado Mountain Winefest and Colorado Winefest Denver (June 11, 2011) is the fundraiser for the trade organization of grape growers and winemakers of Colorado, the Colorado Association for Viticulture and Enology (CAVE), a 501(c)6 non-profit organization. Join the Colorado Mountain Winefest conversation via Facebook, Twitter (@cowinefest) and YouTube and learn more at http://www.ColoradoWinefest.com.
###