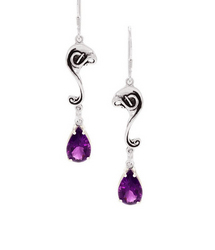 I joke with people not to use the jewelry as a field guide; they'll never find the flower.
Kihei, Hawaii (PRWEB) May 22, 2008
Maui jewelry designer Danny Bushart announces his 2008 Colorado Tour and Summer Art Show Schedule. Danny is participating in eight shows beginning with Littleton, CO, a suburb of Denver, in June and ending with Golden, CO, eight weeks later. His Romantic Era inspired jewelry collection will be on display and for sale at each of these fine art shows. The 2008 collection includes sterling silver, 18 and 14 karat gold jewelry including necklaces, earrings and bracelets with birthstones and other semi-precious gems.
These juried, fine are festivals include oil, acrylic, and watercolor paintings, pencil, pastel, and charcoal drawings, bronze, stone, metal, and glass sculptures, ceramics, jewelry and photography.
When asked about his work, Bushart said, "I call it Romantic Jewelry because of the Romantic Era influences, mainly Art Nouveau, Victorian, and Edwardian styles. My jewelry even includes a little Art Deco and, since I moved to Maui ten years ago, there's clearly a Hawaiian influence as well." "It's all floral but it's not really about the flowers. It's more about trying to achieve a graceful flowing line throughout the piece and, more often than not, it doesn't end up looking like the flower I started with." "I joke with people not to use the jewelry as a field guide; they'll never find the flower."
"I make my jewelry using the lost wax process. I first hand-carve the design in wax. The 'model' is then dipped in plaster and hardened. The wax is then melted out of the plaster in a kiln, and cast (replaced) by molten sterling silver or 14 karat gold using a centrifuge. I use precision dental tools and an alcohol lamp to create my wax model. I heat the tool in the flame of the lamp, touch it to a block of wax to collect a small drop then, as it cools, I draw it out on thin sheet wax to create a design. It's similar to dipping a fountain pen into an ink well to write. I slowly build the wax up then carve it back down until the design is completed."
Click this link to see Danny Bushart's 2008 Romantic Jewelry collection.
The Romantic Jewelry 2008 Colorado Tour and Summer Art Show Schedule.
June 27-29 Littleton Art and Acoustic Music Festival Littleton, CO
July 5 - 6 Boulder Festival of the Arts Boulder, CO
July 11-13 The Edwards Fine Art and Sculpture Festival Edwards, CO
July 18-20 The Dillon Art Festival Dillon, CO
July 25-27 7th Annual Breckenridge Main Street Art Festival Breckenridge, CO
Aug 2 - 3 21st Annual Beaver Creek Art Festival Beaver Creek, CO
Aug 9 -10 2nd Annual Downtown Frisco Art Festival Frisco, CO
Aug 16-17 Golden Fine Arts Festival Golden, CO
Danny Bushart is an award winning jewelry designer who has been designing and selling his jewelry through art shows and galleries since 1974.
# # #