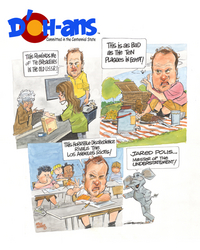 It is absolutely reminiscent of second class status of Jews in Germany prior to World War II when they had to have their papers with them at all times and were subject to routine inspections at the suspicion of being Jewish
Denver, CO (Vocus) May 13, 2010
Colorado Congressman Jared Polis is the latest politician in the state to be lampooned by D'OH-ans, a homegrown conservative political cartoon that showcases leading "foot-in-the-mouth" political, media, sports and entertainment figures.
Congressman Polis was tagged for his remarks in late April that equated the new Arizona immigration laws to those in pre-Holocaust Nazi Germany. Polis, a first-term Congressman who is Jewish, decried the Arizona law, which requires police in the Grand Canyon state to ask those who they reasonably suspect may be illegal immigrants to produce identification papers.
"It is absolutely reminiscent of second class status of Jews in Germany prior to World War II when they had to have their papers with them at all times and were subject to routine inspections at the suspicion of being Jewish," Congressman Polis told the online site, Politico.
Dean Rotbart, a conservative commentator for Examiner.com and co-creator of the D'OH-ans cartoon, called Congressman Polis's analogy "absurd," saying that it "defiles the memory and betrays the agony of those Jews who were persecuted at the hand of the Nazis." The columnist's father, Max Rotbart, survived internment at the Auschwitz concentration camp, although virtually all of Max's family perished in the Holocaust.
In his Examiner.com column, Rotbart notes that unlike suspected illegal immigrants who may be stopped in Arizona, the Jews in Nazi Germany were harassed solely on the basis of religious discrimination. Jews in Germany were legal citizens, many of them having lived and worked in the country for generations.
Rotbart also quotes Abraham H. Foxman, national director of the Anti-Defamation League, who pointed out that the Nazis' actions aimed at Jews were step one in the Nazis' plan to force Jews into ghettos and ultimately deport them to extermination camps.
Rather than admit that he misspoke, Polis defended his analogy between illegal immigrants in Arizona and Jewish citizens in pre-Holocaust Germany, Rotbart said. "That earned the Congressman the right to be lampooned by D'OH-ans."
Rotbart created the D'OH-ans cartoon along with veteran Colorado cartoon-caricaturist Frank Farrar, who draws each strip.
D'OH-ans cartoons carry the tagline: "Committed in the Centennial State." The cartoons run regularly along with Rotbart's Examiner.com columns.
Readers can receive all of Rotbart's columns and D'OH-ans political cartoons for free by hitting the "subscribe" button available on any of his Examiner.com columns. Reprints of D'OH-ans cartoons are also available on a variety of campaign posters, banners and lawn signs. For more information contact Dennis at Repro Services in Denver, phone 303-937-7737.
# # #