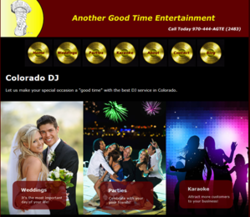 The launch of our new website offers our customers more flexibility to schedule a DJ.
(PRWEB) December 14, 2011
Another Good Time Entertainment, a Colorado DJ company based in Fort Collins, has unveiled a new website as an online portal for its business. The new website at http://www.anothergoodtimeentertainment.com showcases a wide array of DJ services that are provided by the company to Colorado residents.
Plenty of exciting new features can be found on the pages of the website. An online calendar shows upcoming events where AGTE is providing DJ services and an online scheduling interface allows customers some additional flexibility and convenience in making reservations for a DJ to appear at an event.
"The launch of our new website offers our customers more flexibility to schedule a DJ," said Day Saylor, co-owner of AGTE.
AGTE has experienced tremendous growth since the Colorado DJ business opened in May, 2011. On the company's growing list of clients are several prominent local bars and pubs located in the Fort Collins area who have hired the Fort Collins DJ service to provide karaoke. Many of these customers have expressed satisfaction with the DJ services that AGTE provides.
Customers can hire AGTE to provide DJ services at weddings. The Fort Collins DJ service can send an experienced wedding DJ to provide the music at a wedding or a wedding reception and enhance the special feel of the occasion and create many pleasant memories. Any wedding DJ that is hired from AGTE is an experienced professional who has plenty of expertise in music selection. They know how to find perfect beats and rhythm for that special day.
AGTE also provides DJ services for all types of private and corporate parties. The types of parties handled by AGTE have continued to grow since it first opened its doors earlier this year. Customers have hired the Colorado DJ service to provide music for pool parties, summer barbeque parties, graduation parties, birthday parties, Christmas parties, New Year's Eve parties and other themed parties. AGTE has proven a popular choice for these events because of the high quality DJ services provided by the company. Customers have reported satisfaction with everything from music that fits with the party theme to a fun and exciting atmosphere created by the music.
Customers looking to hire a professional DJ with plenty of experience working special events can visit the AGTE website or call the company offices in Fort Collins at 970-444-AGTE (2483). AGTE provides DJ services within 20 miles of all major Colorado towns and cities.
###