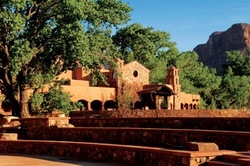 I am thrilled to represent this amazing property as Director of Sales for the Colorado & Utah regional area
Gateway, CO (Vocus) October 2, 2009
Gateway Canyons Resort, a premium destination property located in the red rock canyons of western Colorado, has announced the addition of Marci Kurronen as Director of Sales. Ms. Kurronen is an accomplished and long-time member of Colorado's hospitality industry, most recently as Associate Director of Sales and a twelve-year tenure at Vail Valley partnership/Chamber and Tourism Bureau. For ten of those twelve years, Marci was the top producing sales manager and she managed key market segments on the Front Range and the Southwest markets including Texas. Her new sales office will be based in Denver.
Gateway Canyons Resort opened in 2005 with sixteen rooms at the Dolores River Inn, built adjacent to the impressive Gateway Colorado Auto Museum, and the Outpost General Store. Two years later in 2007, The Kiva Lodge was opened with thirty-eight rooms and two grand suites, and an inside courtyard that features a large swimming pool and lounge area. The Resort has the Paradox Grille for fine dining, the Kiva Café for sandwiches and burgers, and the Paradox-To-Go in the general store with a coffee bar and a deli for grab-and-go specialties.
Outdoor activities are a highlight any time of the year, with climbing, rafting, hiking, fly fishing, biking, tubing, kayaking, archery, horseback riding and ATV touring for the temperate seasons, and snowshoeing for the snow season. Gateway Canyons Resort features an in-house outfitting store and an Activities Concierge.
The combination of deluxe lodging and diverse activities has made Gateway Canyons Resort a popular destination for groups. The resort's newest facility, the Palisade Event Center, will raise the bar on the group conference experience. The Palisade Event Center includes a Grand Hall with multi-media functionality, large and small conference rooms, an HD theater, an art studio, the Entrada restaurant, and more.
Also new at the Resort is the beautiful Mission Bell Amphitheater, officially opened for the BBQ Blues music event held at the end of August. This stunning new outdoor venue is within easy walking distance of the two lodges and was designed with a large stage and ample seating for events such as weddings, concerts, and lectures. The development of the Palisade Event Center and the Amphitheater completes the infrastructure for successful conferences and group meetings.
"I am thrilled to represent this amazing property as Director of Sales for the Colorado & Utah regional area," said Marci Kurronen. "I know that any group activity that takes place at Gateway Canyons will be talked about for years. It's the perfect combination of breathtaking natural beauty, deluxe accommodations, fine food and wine, beautiful and high-tech conference facilities, and a myriad of outdoor activities. And of course a spa treatment at Gateway Canyons can be the icing on the cake for any conference attendee."
Inherent in all facets of Gateway Canyon Resort is the larger goal of sustainability and minimal environmental impact on one of the most visually resplendent and unspoiled natural landscapes of the Southwest.
Contact Marci Kurronen, Director of Sales for Gateway Canyon Resort at marci.kurronen (at) gatewaycanyons (dot) com or call 720-922-3511.
About Gateway Canyons Resort
Gateway Canyons Resort is a premier vacation destination with full amenities, breathtaking scenery, a range of outdoor activities, and the Gateway Colorado Auto Museum. Located one hour southwest of Grand Junction on Colorado Scenic and Historic Byway 141, the resort is easily accessible. Frequent flights are available from Denver and Salt Lake City at the full service Grand Junction Regional Airport. Private planes may arrive in Grand Junction or Montrose. Rental cars and resort shuttles are available. For more information, call 866.671.4733 or visit http://press.gatewaycanyons.com/press_room.php
for an online press kit, press releases, and downloadable photographs.
Media contacts:
Tammy Anderson, Director of Resort Lodging and Guest Experience
Gateway Canyons Resort
970.931.2647
tammy (dot) anderson (at) gatewaycanyons (dot) com
or
Vicky Nash, Public Relations Representative
Resort Trends, Inc. – Tourism & Resort Communications
970.948.4923
Vicky (at) ResortTrends (dot) com
###