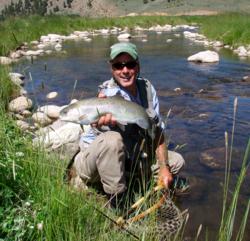 The master guides program was introduced to enhance and broaden owners' and guests' experiences at Wilder.
Gunnison-Crested Butte, CO (PRWEB) June 13, 2013
Wilder on the Taylor, a preservation and recreational ranch community located between the iconic Colorado towns of Crested Butte and Gunnison, has announced a new master guides program. Lu Warner has been named master guide of fishing and mountain biking and Ranch Manager Don Sabrowski will lead ranching and horseback riding experiences for owners and guests at the 2,100± acre property located along the Taylor River.
Wilder on the Taylor is a cattle and Timothy hay ranch that has been continuously operated for nearly 100 years and now also features 26 homesteads. Nearly 95 percent of the historic ranch property is protected from future development and devoted to preservation of wildlife and water resource, and all agricultural and recreational pursuits such as fishing, hiking, biking, horseback riding and hunting are done with respect for the land and nature.
"The preservation of the endless natural resources can be seen from the migration corridors to the wildlife friendly fencing through the ranch," says Ron Welborn, partner at Wilder on the Taylor and an avid fly fisherman. "The master guides program was introduced to enhance and broaden owners' and guests' experiences at Wilder. The focus is to offer the recreational adventures along with increased knowledge provided by our guides, both on the trail and on the water, thereby increasing their enjoyment of this incredible area."
Master Guides
Lu Warner has been fly fishing and tying flies since the young age of 8. His childhood years were spent on the small streams of New England and Quebec and his adult years in Alaska, New Zealand, British Columbia, Quebec, Argentina, Chile, and the Rocky Mountain West. Since 1985, he has worked as a fly fishing guide in Idaho, Montana, Colorado, Alaska, Argentina and southern Chile. Since 2000, Warner has guided the summers in the Crested Butte/Gunnison area logging over 100 days at the Wilder on the Taylor in the past four seasons. From October through May, Warner is in the Patagonia of Chile where he owns and operates the Valle Bonito Lodge, which specializes in fly fishing, hiking and mountain bike adventures.
His extensive background in mountain biking also will be tapped at Wilder on the Taylor. For several years, Warner owned and operated Western Spirit Cycling, a mountain bike touring company based in Moab, Utah, and guided people from around the world on multi-day mountain bike adventures in Utah, Montana, Colorado, Arizona and Idaho.
Not only will Warner be offering fishing and biking experiences for Wilder homeowners and guests, he will be holding weekly seminars on topics related to the sports.
Don Sabrowski and his wife, Shelly, have managed and lived on the ranch since 1995. The Sabrowskis graduated from New Mexico State University in Las Cruces with degrees in animal science, and Don also double majored in agricultural economics. Prior to arriving in Gunnison County, they worked for a yearling cow/calf operation in Rye, Colo. At Wilder, not only do the Sabrowskis oversee the 300-acre Timothy hay crop and a herd of 50 heifers and five horses, they are involved in the property's development, take care of maintenance, and welcome homeowners and guests.
As a master guide, Don offers ranching experiences such as moving cattle to the nearby Almont Triangle in May and bringing them back to the ranch in mid-July. Trail rides with Don on the wide selection of trails in the adjoining Gunnison National Forest can be arranged for anywhere between two hours and an overnight camping trip. Homeowners can ride the ranch's horses or pasture their own horse at Wilder and have it cared for throughout the year. Watching the cutting and baling of hay also is an option.
"It's been a privilege to be part of the history and to maintain this beautiful piece of property for 18 years," emphasizes Don Sabrowski. "Sharing the experiences of operating a ranch and the joy of riding horseback help make Wilder on the Taylor a unique place to own property and host guests."
Paradise for Recreation & Wildlife
The heart of Wilder on the Taylor is an expansive hay meadow bisected by the Taylor River, a fabled trout mecca that runs through the center of the ranch for nearly 2 miles. There is a total of 5 miles of private live water, including several miles of meandering meadow stream that is fed from the Taylor River and Spring Creek. Five trout stocked ponds are perfect for kids and those newer to the sport.
With more than 2,100 acres to explore and a location surrounded by Gunnison National Forest, there are hiking, biking, ATV and hunting options galore.
###
Wilder on the Taylor is an angling paradise and a preservation-oriented 2,100± acre ranch community offering a total of 26 homesteads conveniently located between Gunnison and Crested Butte, Colo. Each homestead is a minimum of 35 acres with a one-acre building envelope. As private fly-fishing water is increasingly difficult to procure, Wilder presents a rare and distinct opportunity to own an undivided interest in one of the best fishing properties in the western United States.
Sharing the responsibilities and expense with a select few residential co-owners is one of the most sensible ways to enjoy and participate in the heritage and the legacy of ranching and living the Western lifestyle. Easy to find and easy to reach, Wilder is the unmatched place for families and friends to quietly gather and enjoy the wonders of Colorado and the history, traditions and culture of the American West.