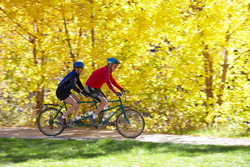 Fall is one of the best times to visit Glenwood Springs; the crowds are gone, the weather is amazing, there is so much to do and with these great room rates, you really can have a free for all here
Glenwood Springs, CO (PRWEB) October 7, 2009
With summer a mere memory now, but great fall weather and fall foliage, the Glenwood Springs Chamber Resort Association is welcoming visitors and the season with its Free For All get-away packages. The promotion offers budget-conscious travelers the opportunity to relax and enjoy the natural autumn bounty in and around Glenwood Springs. Appealingly priced lodging rates that start as low as $69 per night allow visitors to relax and rest easy. "Fall is one of the best times to visit Glenwood Springs; the crowds are gone, the weather is amazing, there is so much to do and with these great room rates, you really can have a free for all here," said Kate Collins, Vice President of Tourism Marketing for the Glenwood Springs Chamber Resort Association.
October in the high country is the ideal time to enjoy the heady combination of warm sunshine, crisp mountain air and plenty of free fun activities. It's the perfect time to get outdoors to explore. Hiking trails abound in Glenwood Springs; always popular is the Hanging Lake Trail located in the heart of Glenwood Canyon. In town, the Doc Holliday Trail takes visitors to the pioneer cemetery to see the legendary gunfighter's memorial. Those hooked on the high-tech treasure hunting game of geo-caching will find plenty of places to employ their GPS tracking skills within the area. History buffs and western aficionados can glimpse the past with a self-guided historic walking tour of Glenwood Springs available at the Glenwood Springs Visitors Center. To pedal or stroll, the Rio Grande Trail traverses the Roaring Fork Valley from Glenwood Springs to Aspen. Simply choose a starting point and hike or bike in either direction.
But walking, hiking and riding aren't the only ways to explore Glenwood Springs and the surrounding area. Scenic driving routes that cover short or long distances reveal autumn's colorful palette. Four-Mile Road to Sunlight Mountain Resort is a 32-minute drive offering views of Mount Sopris to the south and groves of golden aspen trees near Sunlight Mountain Resort. The 134-mile, Rifle-Meeker-Buford-Flat Tops Loop takes close to four hours to complete. Rural meadows dotted with sheep and cattle ranches are the highlight of this pastoral drive. Other scenic drives from Glenwood Springs include Independence Pass (near Aspen) to Leadville, and Highway 133 through Carbondale and Redstone over McClure Pass.
For more cost-free fun, feed trout at the Mitchell Creek Fish Hatchery, try fly fishing in the gold medal waters of the Roaring Fork River or play 18 holes of Frisbee Disc Golf at the Colorado Mountain College Spring Valley campus. With value-priced accommodations and so many complimentary endeavors, Glenwood Springs is where visitors can go to have their very own free for all this fall.
For more information about the Free For All promotion in Glenwood Springs, Colorado, call 970-945-6589 or go to http://www.glenwoodchamber.com/General-VP/Free-for-All.html. For lodging reservations, call 888 4 GLENWOOD (888-445-3696).
About Glenwood Springs, Colorado
For more information about Glenwood Springs, Colorado, call 970-945-6589 or go to http://www.visitglenwood.com. For lodging reservations, call 888 4 GLENWOOD (888-445-3696). A complete press kit and press releases are available at http://www.glenwoodchamber.com/General-VP/Media-Center.html. Access to downloadable photos is also available upon request. Glenwood Springs is located between Aspen and Vail, 165 miles west of Denver or 90 miles east of Grand Junction on Interstate 70 off exit 116.
Media Contacts:
Kate Collins, Vice President of Tourism Marketing
Glenwood Springs Chamber Resort Association
970-945-6589 ext. 105
kate (at) glenwoodchamber (dot) com
or
Vicky Nash, Public Relations Representative
Resort Trends, Inc. - Tourism & Resort Communications
970-948-4923
vicky (at) resorttrends (dot) com
# # #