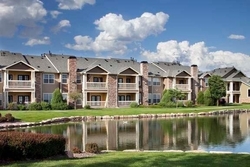 Their support of renewable energy development and their commitment to educating residents about sustainability demonstrates their role as a leader in their industry and beyond.
Denver, Colorado (PRWEB) October 14, 2009
Griffis Group, a Denver-based owner of affordable luxury apartments, today announced it is reducing the carbon footprint of its nine Class-A resort-style apartment communities in purchasing 6,967,404 kilowatt hours of renewable energy credits (RECs) from Boulder, CO-based Renewable Choice Energy.
Griffis Group's commitment will offset the impact of 60 percent of the electricity use of its 2,290 apartment units for one year. This will help save nearly 7.8 million pounds of carbon dioxide pollution and have an impact similar to planting more than 32,000 mature trees or not driving nearly 8 million miles in an average passenger car. For next year, it has significantly increased its commitment to offset 100% of the electricity used by its residents.
"We are committed to reducing our carbon footprint and educating our residents on the importance of conserving energy and encouraging the production of clean energy," explains David Birnbaum, Managing Director of Griffis Group.
By choosing to live at one of Griffis Group's nine eco friendly Colorado apartment communities, residents are reducing their carbon footprint and are supporting the production of wind farms.
These resort-style apartment communities located in Colorado Springs, Denver, Aurora, and Boulder, Colorado, offer 1-bedroom, 2-bedroom, and 3-bedroom apartment rentals. Additionally they have luxury amenities from pools and spas, 24-hour fitness centers, and Starbucks coffee bars, to state-of-the-art business centers, in addition to incorporating numerous environmentally-friendly practices and programs. The environmentally friendly commitments include on-site single stream recycling, energy-efficient lighting and appliances, on-site recycling for compact fluorescent light bulbs, water conservation efforts in landscaping, use of green materials like Shaw Green Certified Nylon 6 recyclable carpet and pad, recycled glass kitchen backsplashes, and non-VOC (volatile organic compound) interior paint. More information on the "Get Green" initiatives undertaken at the Company as well as information on each of its affordable luxury apartment communities can be found at http://www.LiveHereColorado.com .
"We are proud to be working with Griffis Group, as an innovative company committed to reducing its environmental impact and that of its residents," said Quayle Hodek, CEO of Renewable Choice Energy. "Their support of renewable energy development and their commitment to educating residents about sustainability demonstrates their role as a leader in their industry and beyond."
How Renewable Energy Credit (RECs) Work
Renewable energy facilities generate renewable energy credits (RECs) when they produce electricity. Purchasing these credits is a widely accepted way to address the environmental footprint of your electricity consumption. Purchasing RECs at the same quantity as your electricity consumption guarantees that the energy you use is added to the power grid from a renewable energy facility and supports the further development of these projects. Renewable Choice RECs are third-party certified by Green-e Energy, a program of the non-profit Center for Resource Solutions. More at http://www.renewablechoice.com/business-about-renewable-energy.html .
Griffis Group
Based in Denver, Ian Griffis and his affiliates have been investing in apartment communities for 24 years. Griffis Group offers conservative low leverage investments with strong upside potential and cash flow. Diversified funds have delivered above-market returns for over two decades. Please visit http://www.griffisgroup.com for more details. For information on their Class-A apartment communities and green apartment living, please visit http://www.LiveHereColorado.com .
Renewable Choice Energy
Renewable Choice Energy (http://www.renewablechoice.com ) is a leading national provider of renewable energy credits (RECs) and verified emission reductions (VERs) (carbon offsets) to hundreds of Fortune 500 Companies and small businesses, thousands of residential customers, and over 1000 LEED green building projects in the U.S. Founded in 2001, Boulder, Colo.-based Renewable Choice and its clients have received prestigious awards from the EPA and DOE for supporting and expanding the renewable energy market and have been featured in hundreds of media outlets including The New York Times, Wall Street Journal, CNN, USA TODAY, and more. http://www.renewablechoice.com
###