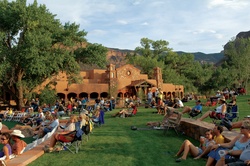 Many people come for the event and end up staying for the week or the weekend – after the event there are still so many things to do and see here
Gateway, CO (Vocus) June 9, 2010
Fill long summer days with events and activities at Gateway Canyons. Whether guests are coming to celebrate a long holiday weekend like Labor Day or the Fourth of July, an event combined with a stay at Gateway Canyons is a memory-maker. "Many people come for the event and end up staying for the week or the weekend – after the event there are still so many things to do and see here," said Ali Sanchez, Sales and Marketing Manager for Gateway Canyons.
One of the most anticipated events is the annual BBQ Blues, on Saturday, September 4th over the long Labor Day weekend. The event features the music of five blues bands, a delicious array of BBQ specialties, food and craft vendors, and a fireworks display that culminates the evening. The musical lineup includes Big Daddy Lee and the Kingbees, Once Removed Blues Band, Kirk James Band, Steve Crenshaw and the Williams Brothers. Blues fans will relish the musical mix of lively, urban sounds. Shows begin at 11:00 AM at the outdoor stage of the Mission Bell Amphitheater; tickets are $25 and go on sale in August. The event is also a fundraiser for a good cause; proceeds help promote awareness of the Wounded Warrior Project, a program that honors and empowers severely injured service members.
Another Gateway Canyons event commemorating a special day is the Independence Day Celebration, held Saturday and Sunday, July 3 and 4. This event is the ideal place for families to gather to enjoy a little slice of Americana set in one of the nation's most iconic landscapes. There are festivities for everyone some of which include outdoor movies at the Mission Bell Amphitheater, expertly grilled and classically American BBQ specialties, and there will be special events at the Gateway Colorado Auto Museum, home to 45 of the most prized classic cars in the country. Of course in the evening look to the skies for a dazzling display of fireworks to salute to the red, white and blue.
Guests who come for the event and extend their stay will find so many things to occupy their days; the hard part will be deciding what to do first. A few of the activities guests can pursue at Gateway Canyons include lounging near the outdoor pool, horseback riding, mountain biking, jeeping, hiking, rafting, massage and both fine and casual dining. For general information or details about the summer events at Gateway Canyons, please visit http://www.gatewaycanyons.com.
About Gateway Canyons
Gateway Canyons is a premier resort destination with 54 rooms, state-of-the-art meeting facilities, full amenities, breathtaking scenery, a range of outdoor activities, and the Gateway Colorado Auto Museum. It is the home of Curiosity Retreats, a place where high quality learning opportunities and the surrounding natural beauty combine to create a one-of-a-kind destination experience.
Located one hour southwest of Grand Junction on Colorado Scenic and Historic Byway 141, this destination is easily accessible. Frequent flights are available from Denver, Dallas, Phoenix and Salt Lake City at the full service Grand Junction Regional Airport. Private planes may arrive in Grand Junction or Montrose. Rental cars and shuttles are available. For more information, call 866.671.4733 or visit http://www.gatewaycanyons.com/press-room for an online press kit, press releases, and downloadable photographs.
Media Contacts:
Tammy Anderson, Director of Lodging and Guest Experience
Gateway Canyons
970.931.2647
tammy (dot) anderson (at) gatewaycanyons (dot) com
or
Vicky Nash, Public Relations Representative
Resort Trends, Inc. – Tourism & Resort Communications
970.948.4923
Vicky (at) ResortTrends (dot) com
# # #