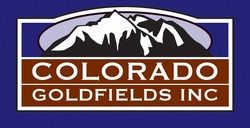 LAKEWOOD, Colo. (PRWEB) October 17, 2008
The Company elected to reward those stockholders who had remained loyal to the Company despite adversities. Management hopes that this dividend would offset some of the losses suffered by the Company's stockholders caused by the very substantial fall in the Company's stock price in recent months. The board will consider additional stock dividends quarterly.
This Stock Dividend will be electronically credited to stockholders accounts on the Pay Date. Those stockholders who are not holding their shares with their Brokers will receive their Stock Dividends in certificated form.
About Colorado Goldfields, Inc.
Colorado Goldfields Inc. (OTCBB:CGFI), http://www.cologold.com, is a Denver-based junior exploration and mining company primarily exploring for gold and silver. Our seasoned management team targets historic gold camps with strong potential for multiple deposit discovery. Currently, our business model in Colorado provides an outstanding combination of former producing properties with excellent exploration and production potential and a currently inactive, modern up to 700 ton per day capacity mill facility to allow for an attractive short-term production time frame. We expect that this strategic plan will allow Colorado Goldfields to reach its goal of profitability, potentially within the next 18 months.
The Company has made available a current CGFI Fact Sheet in PDF format at http://www.cologold.com/s/pdfs/CGFIFactSheet.pdf. An audio presentation of the CGFI 2009 business plan is available on the web at http://www.cologold.com/s/multimedia/audiopresentation.wmv. The most recent live investor conference (of September 4, 2008) is available at http://www.cologold.com/s/audio/CGFI_Live_Investor_CC.wma.
Notice regarding forward-looking statements
This news release may contain forward-looking statements or information within the meaning of the United States Private Securities Litigation Reform Act of 1995. Forward-looking statements or information includes statements regarding the expectations and beliefs of management. Forward-looking statements or information include, but are not limited to, statements or information with respect to known or unknown risks, uncertainties and other factors which may cause the actual results, performance or achievements of the Company to be materially different from any future results, performance or achievements expressed or implied by such forward-looking statements or information. Forward-looking statements or information are subject to a variety of risks and uncertainties which could cause actual events or results to differ from those reflected in the forward-looking statements or information, including, without limitation, risks and uncertainties relating to obtaining financing to meet the Company's exploration program and operating costs during its exploratory stage, the interpretation of exploration results and the estimation of mineral resources and reserves, the geology, grade and continuity of mineral deposits, the possibility that future exploration, development or mining results will not be consistent with the Company's expectations, accidents, equipment breakdowns, title matters, or other unanticipated difficulties with or interruptions in production and operations, the potential for delays in exploration or development activities or the completion of feasibility studies, the inherent uncertainty of production and cost estimates and the potential for unexpected costs and expenses, commodity price fluctuations, currency fluctuations, regulatory restrictions, including the inability to obtain mining permits and environmental regulatory restrictions and liability, the speculative nature of mineral exploration, dilution, competition, loss of key employees, and other risks and uncertainties, including those described under "Risk Factors" in the Company's Annual Report on Form 10-KSB filed on December 27, 2007, and as amended on March 3, 2008, which is on file with the Securities and Exchange Commission, as well as the Company's other SEC filings. Should one or more of these risks and uncertainties materialize, or should underlying assumptions prove incorrect, actual results may vary materially from those described in forward-looking statements. Accordingly, readers are advised not to place undue reliance on forward-looking statements or information. The Company does not undertake any obligation to release publicly revisions to any "forward-looking statement," to reflect event or circumstances after the date of this news release, or to reflect the occurrence of unanticipated events, except as is required under applicable securities laws.
Cautionary note to U.S. Investors -- The United States Securities and Exchange Commission permits U.S. mining companies, in their filings with the SEC, to disclose only those mineral deposits that a company can economically and legally extract or produce. We use certain terms on this website (or press release), such as "measured," "indicated," and "inferred" "resources," which the SEC guidelines strictly prohibit U.S. registered companies from including in their filings with the SEC. U.S. Investors are urged to consider closely the disclosures in our 10-KSB which may be secured from us, or from the SEC's website at http://www.sec.gov/edgar.shtml. This press release may contain information about adjacent properties on which we have no right to explore or mine. We advise U.S. investors that the SEC's mining guidelines strictly prohibit information of this type in documents filed with the SEC. U.S. Investors are cautioned that mineral deposits on adjacent properties are not indicative of mineral deposits on our properties.