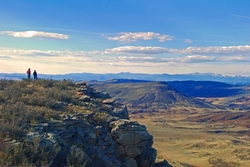 I think we've weathered the storm well
Denver, CO (Vocus) July 31, 2009
Despite the poor economy, the Colorado Lottery managed to post the second best sales performance in its history for Fiscal Year 2009, with $493.4 million in sales for the year ended June 30, 2009. The Lottery also continued to generate significant funds for its beneficiaries, returning $119.6 million to the state, the third best year in terms of proceeds.
"I think we've weathered the storm well," said Colorado Lottery Director Jack Boehm. "We didn't expect to register gains in this economic climate, but we worked hard to fulfill our mission of maximizing revenue for our proceeds partners. We're proud that we raised a substantial sum to help keep Colorado a beautiful place to live and play."
Sales of Lottery tickets overall, declined 2.5 percent in FY09. The recession took a particular toll on sales of Scratch tickets and Powerball tickets, which declined 2.3 percent and 8 percent respectively. But the Lottery's Jackpot games Lotto and Cash 5, posted sales increases. Sales of Lotto jumped 6 percent from $41.1 million in FY08 to $43.5 million in FY09. Cash 5 broke a record, reaching nearly $21 million in sales for FY09, compared to $19.1 million the year before. Slightly higher jackpots may have lured players to Lotto, which hit a high for the year of $11 million in October 2008.
The small drop, however, didn't prevent the Lottery from meeting its obligations to its proceeds partners, Great Outdoors Colorado, the Conservation Trust Fund and Colorado State Parks. The three organizations received the following contributions from sales of Lottery tickets:

Great Outdoors Colorado: $54.3 million
Conservation Trust Fund: $47.8 million
Colorado State Parks: $11.9 million
In addition, the Lottery returned $5.5 million to the Public School Capital Construction Assistance Fund.
Recreational enthusiasts weren't the only winners last year. Seven players hit Lotto jackpots in FY09. Another two became millionaires by matching five numbers in Powerball and paying an extra $1 for the Power Play option. In total, the Lottery paid out $296.5 million in prizes in FY09.
"While the recession continues to challenge us, we believe we are poised for a strong showing in FY10," said Boehm. "We recently converted to a new computer system that will allow us to operate more efficiently and provide our players with an exciting slate of new and innovative games."
Media Contact
Erika Gonzalez
Phone:303.759.6872
Cell 303.945.9724
###