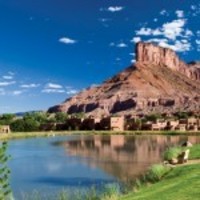 Gateway, Colorado (Vocus) April 16, 2010
The Sky Mesa Trail Marathon is held each year at Gateway Canyons, a world-class lodging, dining, outfitting and events retreat located at the confluence of West Creek and the Dolores River in the pristine wilderness of western Colorado.
For the point-to-point marathon, racers will be shuttled from Gateway Canyons to the mouth of Sinbad Canyon where they will run dirt roads and trails on a 4,000 foot climb ascending to an elevation of 8,500 feet. The race route travels through diverse biotopes that include desert terrain, ponderosa forests and aspen groves before descending. At the finish at Gateway Canyons runners will be welcomed with fanfare that includes food and awards.
"The runners in the Sky Mesa Pass Marathon embody determination, stamina and vision. You simply cannot compete in a race like this without these attributes and likewise these are the same qualities that Gateway Canyons strives to attain in every detail from exceptional educational programs to award-winning lodging and dining amenities," said Tammy Anderson, Director of Resort Lodging and Guest Experience for Gateway Canyons.
Gateway Canyons offers Sky Mesa Pass Trail Marathoners several lodging choices including accommodations at the Dolores River Inn and the Kiva Lodge that range from standard rooms to premium suites. Runners, their families and friends can enjoy Gateway Canyons many amenities like an outdoor pool, spa services, stables, adventure center and more. Guests have access to several on site restaurants that offer a variety of dining experiences. Also, not to be missed is the Gateway Colorado Auto Museum, home to 45 of the finest classic and antique cars in the country.
All racers qualify for discounted lodging rates at Gateway Canyons, a pre-race dinner on Friday evening and post-race celebrations. Runners interested in racing in the Sky Mesa Pass Trail Marathon can register online at http://www.active.com/running/gateway-co/sky-mesa-pass-trail-marathon-2010. Racers must pre-register by May 14, no late registrations will be accepted. The entry fee is $55 before May 1, and $65 after May 1.The race begins Saturday morning at 7:00 AM. Race packets may be picked up Friday evening from 3:00 to 6:00 PM or Saturday morning from 5:00 to 6:15 AM at Gateway Canyons. For further race information contact Race Director Nick Kroger at nicolas(dot)kroger(at)gatewaycanyons(dot)com or call the Gateway Canyons Adventure Center at 970-931-2649. Anyone interested in volunteering for race support may inquire at volunteer(at)gatewaycanyons(dot)com.
About Gateway Canyons
Gateway Canyons is a premier resort destination with 54 rooms, state-of-the-art meeting facilities, full amenities, breathtaking scenery, a range of outdoor activities, and the Gateway Colorado Auto Museum. It is the home of Curiosity Retreats, a place where high quality learning opportunities and the surrounding natural beauty combine to create a one-of-a-kind destination experience.
Located one hour southwest of Grand Junction on Colorado Scenic and Historic Byway 141, this destination is easily accessible. Frequent flights are available from Denver, Dallas, Phoenix and Salt Lake City at the full service Grand Junction Regional Airport. Private planes may arrive in Grand Junction or Montrose. Rental cars and shuttles are available. For more information, call 866.671.4733 or visit http://www.gatewaycanyons.com/press-room for an online press kit, press releases, and downloadable photographs.
Media Contacts:
Tammy Anderson, Director of Lodging and Guest Experience
Gateway Canyons
970.931.2647
tammy(dot)anderson(at)gatewaycanyons(dot)com
or
Vicky Nash, Public Relations Representative
Resort Trends, Inc. – Tourism & Resort Communications
970.948.4923
Vicky(at)ResortTrends(dot)com
# # #