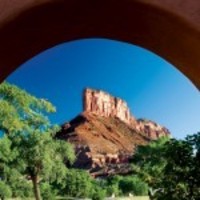 Gateway, Colorado (Vocus) April 8, 2010
The Adventure Center at Gateway Canyons which recently relocated to a new stand-alone building dedicated to recreational adventures is base camp for guest explorers journeying into Colorado's canyon lands. Just one hour southwest of Grand Junction, Colorado, the Adventure Center at Gateway Canyons assists visitors in exploring the hidden, remote and breathtaking places in nature through exciting, enriching and educational experiences. The maps which adorn the walls of the Gateway Canyons Adventure Center reveal the names of the surrounding landscape – Sinbad and Paradox Valleys, Cottonwood and Coal Canyons, Outlaw and Calamity Mesas – the places where adventures begin.
Once home to the Anasazi or "ancient ones" and later to cowboys, miners and the occasional outlaw, the canyons reveal their secrets to those willing to explore. Assisting guests in this endeavor are the knowledgeable and experienced guides of the Adventure Center at Gateway Canyons. Whether mountain biking, fly fishing, four-wheeling, rafting or rappelling, each guide is an expert in their field – educating and encouraging guests to challenge themselves physically and mentally. Additionally, top quality equipment that includes bikes, kayaks, jeeps, fishing gear, ATVs and more enhances every adventure.
"Gateway Canyons Adventure Center has treks, tours and adventures for every ability and skill level. Our goal is help folks get into the back country and experience one of the most pristine and awe-inspiring settings in the west," said Dawn Wieker, Manager and one of the resident gurus of the Adventure Center at Gateway Canyons.
Like the landscape, visitors can choose adventures that are wild or mild, adrenaline-pumping or calm-inducing. The Adventure Center at Gateway Canyons offers several adventures in five categories: river adventures, hiking and climbing, off road tours, mountain biking and fishing. The staff at the Adventure Center at Gateway Canyons can help guests decide whether they want to rappel off a canyon wall, fly-fish in an alpine lake, hike to the 2,000 foot high Palisade, raft class IV rapids, or mountain bike through Aspen groves and Ponderosa pines -- the hardest part will be deciding what to try first.
The Adventure Center at Gateway Canyons is also base camp for wilderness expeditions into the Colorado and Utah backcountry. These multi-day, fully supported trips combine outdoor exploration with educational themes. Some upcoming expeditions include Western Archaeology, Writing in the Wild, and Water in the West. Depending on the trip, participants may be backpacking, rappelling, climbing and rafting.
Gateway Canyons is the home of Curiosity Retreats – a place for the incurably curious. Created by John Hendricks, founder of the Discovery Channel, Curiosity Retreats seeks to inspire mind and body through high quality learning opportunities with leading experts and an abundance of outdoor opportunities in the stunning red rock canyon country of western Colorado.
Adventures begin at Gateway Canyons where exceptional staff and resources make it possible for guests to discover the hidden, access the remote and explore the canyon lands. To set up a Gateway Canyons adventure, visit http://www.gatewaycanyons.com or contact Dawn Wieker at 970.931.2649.
About Gateway Canyons
Gateway Canyons is a premier resort destination with 54 rooms, state-of-the-art meeting facilities, full amenities, breathtaking scenery, a range of outdoor activities, and the Gateway Colorado Auto Museum. It is the home of Curiosity Retreats, a place where high quality learning opportunities and the surrounding natural beauty combine to create a one-of-a-kind destination experience.
Located one hour southwest of Grand Junction on Colorado Scenic and Historic Byway 141, this destination is easily accessible. Frequent flights are available from Denver, Dallas, Phoenix and Salt Lake City at the full service Grand Junction Regional Airport. Private planes may arrive in Grand Junction or Montrose. Rental cars and shuttles are available. For more information, call 866.671.4733 or visit http://www.gatewaycanyons.com/press-room for an online press kit, press releases, and downloadable photographs.
Media Contacts:
Tammy Anderson, Director of Lodging and Guest Experience
Gateway Canyons
970.931.2647
tammy (dot) anderson (at) gatewaycanyons (dot) com
or
Vicky Nash, Public Relations Representative
Resort Trends, Inc. – Tourism & Resort Communications
970.948.4923
Vicky (at) ResortTrends (dot) com
Adventure Center at Gateway Canyons:
Dawn Wieker, Adventure Center Manager
Gateway Canyons Resort
43200 Highway 141
P.O. Box 339
Gateway, CO 81522
970.931.2649
Dawn (dot) wieker (at) gatewaycanyons (dot) com
###