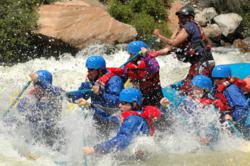 Colorado whitewater rafting is a unique alternative for those looking for an active way to celebrate the end of bachelorhood that is both memorable and offers no regrets
Buena Vista, Colo. (PRWEB) April 21, 2011
River Runners, a Colorado whitewater rafting company on the Arkansas River with locations in Buena Vista and Canon City, offers special discounts and packages for bachelor and bachelorette parties for the upcoming river season – April 30 – September 5, 2011 (Labor Day).
"We have seen an increase in bookings for bachelor parties the past few seasons and our Riverside Rafting Resort is an excellent place to host a party," said Eileen Peterson, general manager at River Runners. "These are just two of the many reasons why we have decided to offer special packages that cater to bachelor and bachelorette parties."
According to Peterson, the River Runners Riverside Rafting Resort in Buena Vista, Colo. can be reserved exclusively for $150 per night. The property features riverside campsites, fire pits, picnic tables, hot showers, bathrooms, a sand volleyball court, horseshoe pits and a Riverside Bar and Grill. It is also the meeting place for Pine Creek (class V), Numbers (class IV) and Browns Canyon (class III-IV) Colorado whitewater rafting trips on the Arkansas River.
Peterson also said that the River Runners Royal Gorge Rafting Center is a great option for bachelor parties looking for an exciting day trip. Colorado whitewater rafting trips through the Royal Gorge (class IV-V) and Bighorn Sheep Canyon (class III-IV) sections of the Arkansas River meet at this facility, which is located eight miles west of Canon City on US Hwy 50, across from the Royal Gorge Bridge and Park turn-off.
"Colorado whitewater rafting is a unique alternative for those looking for an active way to celebrate the end of bachelorhood that is both memorable and offers no regrets," said Peterson.
In addition to the daily rafting trips, River Runners also books intermediate and advanced overnight Colorado whitewater rafting trips out of its Buena Vista location. According to Peterson, trips depart daily throughout the summer with a minimum of 4 people per reservation. If you have less than that you can call to get on an existing trip.
"Our overnight whitewater rafting trips are all inclusive and our guides do all of the cooking, cleaning and packing. Rafting guests can bring alcohol for camp, but they need to be in aluminum cans or plastic bottles." said Eileen Peterson, general manager at River Runners. "Participants stay in a secluded campsite in Browns Canyon on the Arkansas River where they can go on a hike, fish, jump off of rocks, swim, or simply sit around the campfire and tell stories of the day's adventure.
Peterson said that the deal of the summer is currently being offered at River Runners with two-for-one full-day Colorado whitewater rafting trips for advanced bookings scheduled Sunday through Friday from May 1 to June 15, 2011.
River Runners will run Colorado whitewater rafting trips on the Arkansas River, seven days a week, rain or shine May 1 – August 5 (Labor Day), 2011.
River Runners is a licensed outfitter certified by the State of Colorado. Fully guided beginner and advanced rafting trips are offered daily May - September on the Arkansas River within the Arkansas Headwaters Recreation area, a Colorado State Park.
The Arkansas River has more than 100 miles of whitewater rafting among the 14,000 peaks of the Colorado Rocky Mountains.
River Runners operates Colorado whitewater rafting trips on the Arkansas River from two locations – Buena Vista, Colo. and Canon City, Colo. To learn more about the whitewater merit badge clinic and other Colorado whitewater rafting adventures with River Runners log on to http://www.whitewater.net or call 1-800-723-8987.
# # #