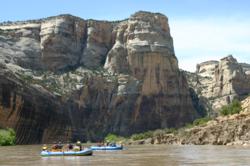 "The geology is spectacular and it has such a unique history…not only the pre-history and that of Native Americans, but also the stories of cowboys, outlaws and famous explorers like John Wesley Powell."
Buena Vista, CO (Vocus/PRWEB) March 23, 2011
Adrift Adventures, a wilderness whitewater rafting company headquartered in central Colorado and authorized concessionaire of the National Park Service, has teamed up with History Colorado to offer an exclusive Utah and Colorado whitewater rafting tour on the Yampa River June 8-12 through Dinosaur National Monument.
Dr. Andrew Gulliford, an esteemed professor of southwest studies and history at Fort Lewis College, will donate his interpretive services for the expedition style rafting trip.
"I have been involved with interpretive programs in and around Dinosaur National Monument for twenty years, and the best way to see it is on the river," Gulliford said. "The geology is spectacular and it has such a unique history…not only the pre-history and that of Native Americans, but also the stories of cowboys, outlaws and famous explorers like John Wesley Powell."
This Utah and Colorado whitewater rafting tour is exclusive — capacity is at 25 participants — and travels 72-miles through desert wilderness. It is open to the public with a special rate for History Colorado members: $725 for adult members, $775 for adult non-members and $250 for children between six and 12 years old. The multi-day rafting trip launches June 8, 2011 from Deerlodge Park on the Yampa River in northwest Colorado and will end in northeast Utah after its confluence with the Green River.
"Offering our members and the general public these types of adventures only helps to deepen an appreciation about Colorado history, archaeology and historic preservation in a unique, active and immersive way," said Shawn Snow, History Colorado's public programs coordinator.
Adrift Adventures is an authorized concessionaire of the National Park Service and operates near the confluence of the Green River and Yampa River in northeast Utah. To book this tour, or to learn more about this and other family-friendly Utah and Colorado whitewater rafting tours through Adrift Adventures, visit http://www.whitewater.net or call 1-800-723-8987.
Dinosaur National Monument is one of the most pristine areas in the nation, and the Yampa River is one of the last free-flowing rivers in the west. Intermediate Class III and IV rapids will be encountered, but no prior rafting experience is necessary. Camps are remote and accessible only by watercraft. This Utah and Colorado whitewater rafting trip is professionally guided, all-inclusive and self-contained with a full kitchen, several hand washing stations and portable toilet facilities.
Adrift Adventures will donate a portion of the proceeds from the trip to History Colorado's educational programs for children and adults.
"We are so pleased to be able to partner with Adrift Adventures and Dr. Gulliford to offer this exciting and truly unique way to experience Dinosaur National Monument and for their support of History Colorado's educational programs," Snow said. "With only 25 seats available, we encourage people to make their reservations quickly and early for this remarkable tour."
For more information about History Colorado, visit http://www.historycolorado.org or call (303) 866-3682.
###