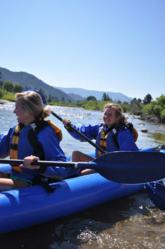 Late-season low water on the Arkansas River means slower water and a wonderful opportunity for families to connect while experiencing the river from an entirely new perspective. Chuck Cichowitz, President, Noah's Ark
Buena Vista, CO (PRWEB) August 03, 2012
Get back to nature before its time for kids to go back to school and big kids – a.k.a. adults - swap their flip-flops for heels and loafers. Where did the summer go?
Summer's still here and there is plenty of time to spend sun-kissed days splashing down a mellow section of the Arkansas River, Colorado's most beautiful flowing river, without emptying the family piggy bank - and still have funds for school supplies or a new suit and briefcase.
Noah's Ark, in Buena Vista, CO, one of the region's most established rafting and back country adventure leaders since 1983, has crafted a stress-free, family and newbie-friendly hour and half, guided Fisherman's Bridge ducky trip down class II whitewater, sporting a few feisty, bouncy rapids amidst stunning surroundings. The five-mile ducky trip - a ducky is an easy-to-paddle inflatable kayak - offered twice daily, is also an ideal amount of time to keep tweens and teens engaged and entertained.
Following a pre-launch instructional session including paddling and navigational instructions, participants hop in their own boats – or a double ducky for those under 14 years old – and set off as a group with a guide, down the rippling river, winding past lofty Cottonwoods and a plethora of Ponderosa Pines with breathtaking views of the surrounding 14,000 peaks above. It's an excellent playful setting for families to unplug and spend time together.
"Late-season low water on the Arkansas River means slower water and a wonderful opportunity for families to connect with each other, while experiencing the river from an entirely new perspective." Says, Chuck Cichowitz, president of Noah's Ark Whitewater Rafting & Adventure Company.
This slower water is also the perfect setting for kids and newer paddlers to learn to steer around rocks and other obstacles in a controlled setting. And, its a nice change for seasoned whitewater enthusiasts seeking a new experience and more intimate connection with the river. As ducks and geese share the waterways above, the late summer clear water allows eagle-eyed paddlers to spot native Brown Trout on the river floor below. Along the shoreline, keep a look out for wildlife, such as mule deer or even an occasional bear.
The summery weather brings a flood of savings. Groups of four or more, who book their ducky trip by Aug 10, can take an additional $6 off the final cost of the trip. Cost: $39.95 for 1-person Ducky or $75 for 2-person Ducky, including wetsuit rental (taxes not included). No prior paddling experience necessary. The Fisherman Bridge trip launches in the morning and afternoon. The minimum age is 10 for a 2-person Ducky (with an adult paddler) and 14 for a 1-person Ducky.
Additional Information:
This pristine section is the river's notable transition out of the high country into the rich fish and wildlife habitat of Brown's Canyon. Paddling this lively, infrequently used section of the river is a step back in time as it winds through the valley floor and past historic ranches, dating back to 1878, with cows and horses ranging on the banks.
The Fisherman's Bridge trip is the perfect nucleus for creating a terrific extended active family outing. Kick off the day with an hour and a half family paddle on the Arkansas River and then zip to the nearby town of Salida to refuel and refresh at one its hip restaurants. Check out art galleries and watch paddlers at the local whitewater park. Or, stroll through the St. Elmo historic Ghost Town. There is a wealth of nicely-priced area lodging for those seeking to make it an overnight getaway.
Noah's Ark Whitewater Rafting Co., of Buena Vista, Colorado, was founded in 1983 by husband and wife team Chuck and Lindy Cichowitz. With hands-on attention, the rafting and backcountry adventure outfitter has become a nationally recognized leader, specializing in trips for families, groups, and youth. Based in the Arkansas River Valley, two-hours from Denver and Colorado Springs, Noah's Ark is surrounded by Colorado's highest concentration of 14,000 ft. peaks and a wealth of wilderness. The company's friendly, well-educated and expertly trained staff delight in exploring the area with guests by way of rafting, climbing, backpacking, ducky trips and beyond. Noah's Ark is a licensed Colorado Outfitter and permitted by the US Forest Service. Nearly three-decades after planting roots, Noah's Ark remains a family-run operation and full-service outfitter whose trademark is safety, fun and outstanding customer service. http://www.noahsark.com.