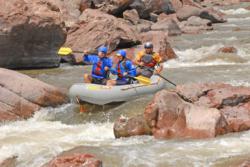 We are seeing some of the best water of the season as we enter August
Buena Vista, CO (PRWEB) August 02, 2012
River Runners, a Colorado river outfitter with two locations on the Arkansas River near Browns Canyon and the Royal Gorge, has announced it will offer whitewater rafting trips daily through Labor Day (September 3), 2012.
Flows on the Arkansas River – along with the rest of the state – have been below average this season, but are holding at runnable levels due to above average precipitation in July, according to Travis Hochard, operations manager at River Runners.
"We are seeing some of the best water of the season as we enter August," Hochard explained. "Every time we think the river is going to drop we get more rain and the river goes up, which has provided great rafting conditions on the Arkansas River in late summer."
The Arkansas River Basin snowpack was well below average this past winter and the snowpack melt-out date occurred on June 4, which is 15 days earlier than average, according to the Natural Resource Conservation Service (NRCS).
"Going into the season we were concerned about river flows, because of the historically low snowpack," Hochard explained. "But we were saved by above average precipitation in July."
Current flows on the Arkansas River (as of August 2, 2012) are 380 cfs in The Numbers; 460 cfs in Brown's Canyon; and 424 cfs in Bighorn Sheep Canyon and the Royal Gorge, which according to Hochard are not too far from normal for this time of year.
"August is such a beautiful time to go rafting in Colorado," Hochard said. "The weather is warm, the crowds are less, and the leaves are starting to change."
River Runners operates rafting trips on the Arkansas River from two locations – Buena Vista, Colo. and Canon City, Colo. To learn more about Colorado whitewater adventures with River Runners log on to http://www.whitewater.net or call 1-800-723-8987.