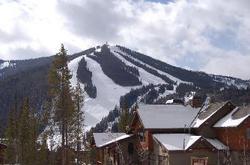 We feel that this ski season is going to be especially good due to the early season snow, and this October we've already booked more vacation rentals than we have at anytime in the past three years
Winter Park, CO (PRWEB) October 29, 2009
Colorado vacation rentals company Mountain View Vacation Properties is expecting this to be one of the best ski seasons in recent years due to the early season snow that has been falling state-wide.
Colorado has experienced a drought in recent years and the ski areas have been supplementing the natural snow with man made snow, but this season has seen the most October snow in nearly 12 years. For this reason, the Colorado ski industry is very excited about the prospects for this ski season, and Winter Park is no exception.
"We feel that this ski season is going to be especially good due to the early season snow, and this October we've already booked more vacation rentals than we have at anytime in the past three years," said Mountain View Vacation Properties owner Lexi Tehven.
In addition to the great skiing and snowboarding, Winter Park offers other snow related activities such as snowmobiling, snowshoeing, cross-country skiing and more. The best way to vacation in Winter Park is to book one of the Winter Park vacation rentals, and stay for a week to enjoy the variety of activities offered in Winter Park.
"Winter Park is one of the least publicized ski resorts in Colorado, yet it consistently offers some of the best skiing and snowboarding in the state, along with a slew of family activities for all ages," said Tehven.
Winter Park, like most of Colorado, has already been hit hard with early season snow, and the scheduled opening date of November 18th may possibly be moved up. Regardless of the recent drought years, Colorado has remained one of the best ski destinations in the country, so it comes as no surprise that the recent snowfall should translate into a great ski season.
About Mountain View Vacation Properties - Mountain View Vacation Properties is a private property management company based in Winter Park, Colorado. Mountain View offers 12 luxury ski homes that sleep anywhere from four to sixteen people comfortably. All of Mountain View's Colorado ski vacation rentals are within minutes of the ski base, are professionally cleaned and maintained, and appointed with the best in luxury amenities.
Mountain View Vacation Properties
401 Antler Way
Winter Park, CO 80482
Phone: 800-942-3325
Fax: 303-479-0124
# # #