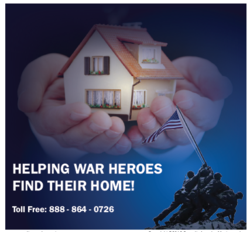 Denver / Aurora / Colorado Springs, Colorado (PRWEB) May 01, 2012
With the convenience of having experts like Security America Mortgage, Inc. launching the Colorado VA Loan website, military relocation to destinations like Denver and Colorado Springs just got that much easier.
VA Home Loan benefits are important, and sometimes big mortgage companies miss the small things area facts such as demographics and tax information, and Real Estate assistance with easier ways to find a home. Now that finding real estate to lowering interest rates on VA home loans is as easy as opening your web browser, it will be that much easier to take the first steps to purchasing a home.
Since Colorado VA loans and VA streamline refinance loans are extremely easy to obtain but many veterans still wonder if they are eligible or not. All military members are eligible to receive a VA Home Loan in Colorado if they; Served on active duty for 90 days during war time or 181 days during peace time, served for six years in the Reserves or National Guard, got discharged for non-dishonorable reasons, serve on active duty and meet aforementioned requirements, or, are the spouse or beneficiary recipient of a military member who died in the line of duty. Once eligibility is secured using a VA Home Loan Benefits, the VA Loan Amount based on the Eligibility is sponsored by the lender, such as Security America Mortgage, Inc.
The VA Loan Process has 6 Simple Steps to Buying a Home in Colorado (see more below):
Colorado Home Loan - VA Process: Step One
Find the home you love and want to apply for. Real Estate property location services and agent assistance is usually provided by the lender you choose to work with but you can always find a home by doing your own research, though this method is not the easiest or fastest method used. During this step all you need to do is find the home you want to buy. Once this is done, you move onto step two.
Colorado Home Loan - VA Process: -VA Step Two
Fill out a required VA forms and request a VA Certificate of Eligibility (CEO form), and request your DD214 VA form. Some lending companies like Security America Mortgage, Inc use a generalized form, which kills two birds with one stone! The VA Loan Expert takes this form and fills out the VA forms you need to apply for a VA home loan.
Colorado Home Loan - VA Process: -VA Step Three
Get Started with a VA Loan Experts: Normally the VA Loan Specialists or Loan Originators will call you as soon as you complete the VA request form(s). This is usually one of the first things the lender will do while they fill out the forms and explain the application processes to you in detail.
Colorado Home Loan - VA Process: -VA Step Four
Wait a day (sometimes two days) for Veteran Affairs to evaluate your VA Home Loan Certificate of Eligibility and DD214 Entitlement options. During this time the VA have an assigned VA Inspector Appraise the Value of the Home you want to purchase. The great news is, this entire time, from step 1-4 have all been free.
Colorado Home Loan - VA Process: -VA Step Five
In this step the VA speaks with a VA Loan Lending Expert about your total VA Loan Limit, entitlement, and qualifications. Once this is confirmed, the VA Loan Specialist will contact the home buyer with the great news about the VA benefits available to the military member.
Colorado Home Loan - VA Process: -VA Step Six
If the VA Approves the amount you need for the home you want, Veterans receive the full amount with the VA Guaranty Loan Benefit, like the Jumbo VA Home Loan.
HOW MUCH ARE COLORADO JUMBO VA LOANS?
Purchasing a Home in Colorado is easy with VA Home Loan Benefits - especially with a VA Jumbo Home Loan, which can be financed in amounts as high as $1,000,000! The VA Loan Limits can be found below for each county. If the county you wish to move in is not listed, then the base VA Loan Amount is capped at $417,000.00.
COLORADO COUNTY NAME/COLORADO VA LOAN AMOUNT:
EAGLE / $625,500
LAKE / $625,500
PITKIN / $625,500
ROUTT / $523,250
SAN MIGUEL / $625,500
SUMMIT / $621,000
Veterans can buy a VA home in Colorado today in amounts as high as $1,000,000. Contact a VA Loan Expert at SecurityAmericaMortgage.com.