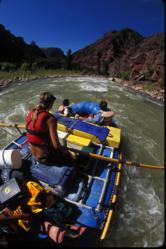 "Andrew's knowledge of the history, wildlife and geology provided a unique perspective, and his storytelling was wonderfully entertaining and educational at the same time."
Buena Vista, Colo. (Vocus/PRWEB) March 24, 2011
For the second consecutive year Adrift Adventures, a wilderness whitewater rafting company headquartered in central Colorado and authorized concessionaire of the National Park Service, has teamed up with Rocky Mountain Public Broadcasting Station (RMPBS) to offer two Utah and Colorado whitewater rafting tours through Dinosaur National Monument – June 16-20 on the Yampa River and August 11-14 on the Green River - with a portion of the trip cost being donated back to the station.
Dr. Andrew Gulliford, professor of southwest studies and history at Ft. Lewis College, will donate his interpretive services for the rafting fundraisers as he did last summer. He has been involved with interpretive programs in and around Dinosaur National Monument for 20 years.
"I am a real advocate for RMPBS, which is why I donate my time for these trips," Gulliford said. "People seem to really appreciate the in-depth interpretation and find it interesting...and the area has such a unique, yet classic western history."
Penny Mitchell, general manager at KRMJ in Grand Junction, is responsible for coordinating the two whitewater rafting tours with Adrift Adventures. She attended the first of two trips last summer and said that she hoped to make it again this year.
"It was wonderful…we had talented guides who worked hard, knew the river, kept everyone comfortable and safe and prepared delicious meals," Mitchell said. "Andrew's knowledge of the history, wildlife and geology provided a unique perspective, and his storytelling was wonderfully entertaining and educational at the same time."
These overnight rafting trips are open to the public and are capped at 25 participants – with one spot being filled by Gulliford. The five-day, 72-mile Yampa River trip launches June 16, 2011 and costs $815 for adults and $250 for children between six and 12 years old. The four-day, 44-mile Green River trip launches August 11, 2011 and costs $750 for adults and $250 for children between six and 12 years old.
Adrift Adventures is an authorized concessionaire of the National Park Service and operates Utah and Colorado whitewater rafting trips near the confluence of the Green River and Yampa River in Dinosaur National Monument. To learn more about these and other family-friendly Utah and Colorado whitewater rafting trips through Adrift Adventures log on to http://www.whitewater.net or call 1-800-723-8987.
Adrift Adventures will donate a portion of the trip cost back to RMPBS. This amount is based on participant levels and will reach $200 per adult with a full trip of 25 participants. Both trips sold out in 2010.
"In addition to being a fundraiser, our hope with these trips is that the participants – who already appreciate what we do – become even more involved with RMPBS", Mitchell said.
Dinosaur National Monument is one of the most pristine areas in the nation, and the Yampa River is one of the last free-flowing rivers in the west. Both trips start in northwest Colorado and end in northeast Utah after the confluence of the Yampa River and the Green River. Intermediate class III and class IV rapids will be encountered on both trips, but no prior rafting experience is necessary. Camps are remote and accessible only by watercraft. These Utah and Colorado whitewater rafting tours will be professionally guided, all-inclusive and self-contained with a full kitchen, several hand washing stations and portable toilet facilities.
"This is a unique fundraising idea that we offer to any organization," said Eileen Peterson, general manager at Adrift Adventures. "We have just a few launch dates left for the 2011 rafting season, but it is not too late for groups to set up a trip on their own."
###