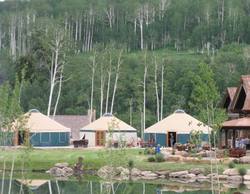 major power houses when it comes to job creation.
Montrose, Colorado (PRWEB) June 12, 2009
The Colorado Yurt Company, makers of eco-friendly yurts, tipis and canvas bungalows, was recently recognized as one of 50 Colorado Companies to Watch. The durable and unique structures manufactured and sold by the company in Montrose, Colorado offer individuals, camps, RV parks, ski resorts and other businesses a building option that is sustainable, affordable and quick to set up. The 50 Colorado Companies to Watch, chosen from 250 nominees, will be honored on June 25, 2009 at the Denver Center for Performing Arts Seawell Ballroom. The companies were also featured in the June 2009 issue of Colorado Biz Magazine.
Colorado Companies to Watch is an awards program started by The Edward Lowe Foundation and endorsed by Colorado Governor Bill Ritter. It honors second-stage companies that are developing valuable products and services, creating quality jobs, enriching communities, and building new industries throughout Colorado. A second-stage company is one that is past the startup phase and facing growth rather than survival issues. All companies who were chosen as a Colorado Company to Watch are privately held, located in Colorado, have 6-99 employees and $750,000 to $50,000,000 in sales or working capital. They exhibit both the intention and the capacity to grow. Penny Lewandowski, Director of Entrepreneurship Development at the Edward Lowe Foundation, states that these companies are "major power houses when it comes to job creation."
"We are excited to be named a Colorado Company to Watch and honored to be considered among the other great companies chosen," said Dan Kigar, owner of The Colorado Yurt Company. "We are especially happy that one of our customers, Open Sky Wilderness, was named to the list as well. They are a holistic, wilderness therapy program. They represent the best of what our structures can offer to those who choose non-traditional and less costly housing solutions that are environmentally friendly." Kigar attributes the company's success to a talented staff and a diverse product mix that is very well suited to a market which has become cost-conscious and environmentally conscientious.
Kigar and his wife Emma, began the company over 30 years ago making Native American tipis for a few friends. In 1984 they added modern, contemporary yurts. The yurts are based on a traditional Mongolian design originating in the high mountain steppes of Central Asia thousands of years ago. The Kigar's updated the round structure with durable industrial fabrics and had it engineered to withstand high winds and heavy snows. They have been providing canvas wall tents to camps for many years and in the past few years have seen a big increase in the number of eco-resorts and bed and breakfasts who use the Cimarron Canvas Bungalows for overnight accommodations. From humble beginnings, The Colorado Yurt Company has grown into a company known and respected world-wide for the quality of their canvas structures.
About Colorado Yurt Company
The Colorado Yurt Company is one of the largest manufacturers of yurts in the world. The company was founded in 1977 by current owners Dan and Emma Kigar who began making tipis in a rented barn. The company now operates from a small campus of buildings in Montrose, Colorado and manufactures Colorado Yurts, Earthworks Tipis and Cimarron Canvas Wall Tents which are lived in, played in and worked in all over the world.
###